Six ways to handle market volatility
1. Lower portfolio volatilities through diversification
Diversifying your portfolio with assets of different attributes helps lower the overall volatility of your investments and balance performances. Diversification within the same asset class is possible too. They key is to understand the different risk attributes of different assets with regard to the industries and regions they belong to.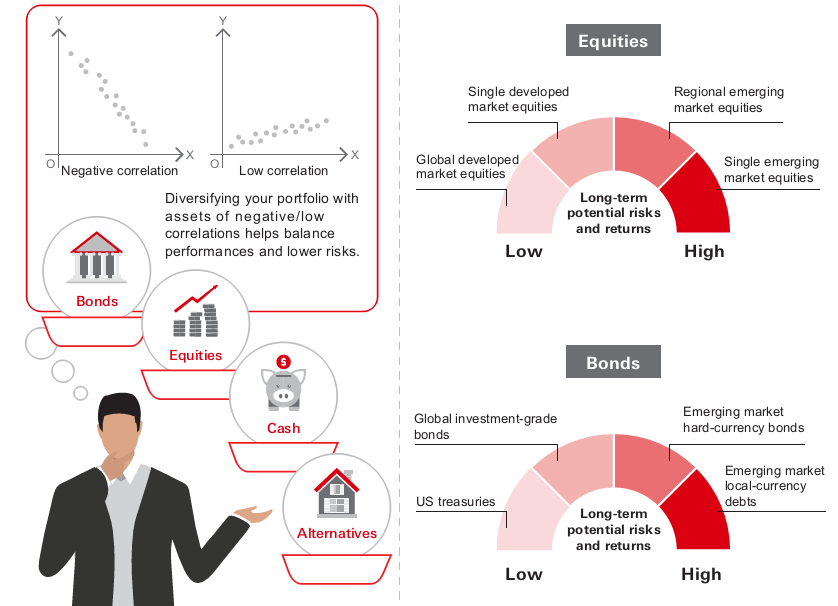 2. Create compounding effects with long-term investment
A lot of investors make frequent trades in the market with the principle of "buy low, sell high." But the method often turns out to be counterproductive and results in increased transaction costs. A better suggested approach is to use the dollar cost averaging, meaning to enter the market in sequence and reinvest all stock dividends. The results? Effects of accrued compound interest.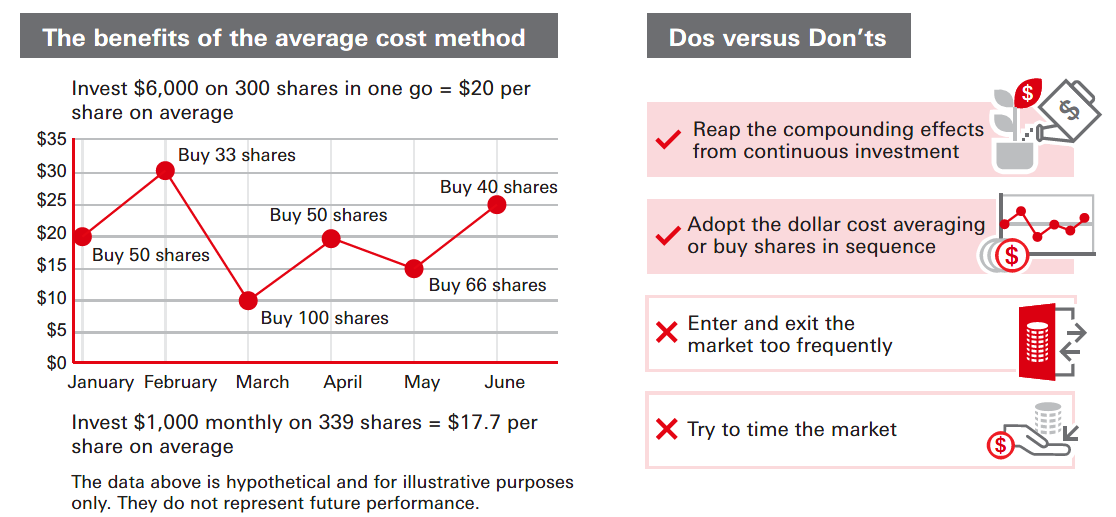 3. Place emphasis on quality during market downturn
Amid market volatility, companies with robust financials can generally maintain cashflow and dividend payout, which helps stabilise their share prices. Same for bond issuers. Those with better credit quality have relatively low default risks even when operation conditions worsen.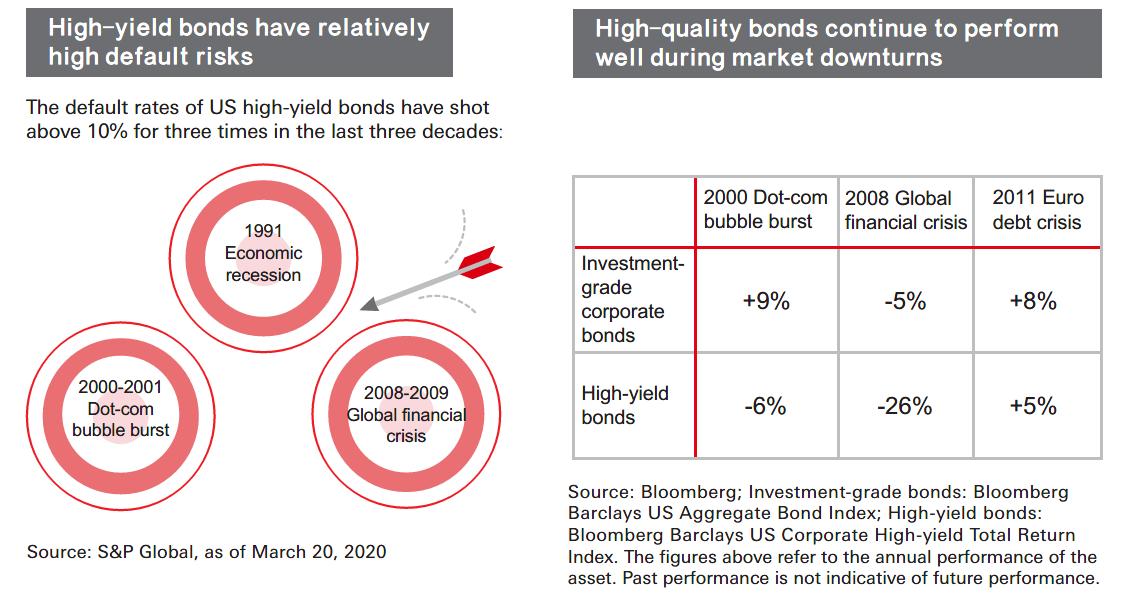 4. Market fickleness is the norm – get used to it
US stock markets have tumbled over 10% from a 52-week high for 10 times in the last 20 years. Market correction is actually not fearful. On the contrary, it could make valuations more attractive and creates buying opportunities.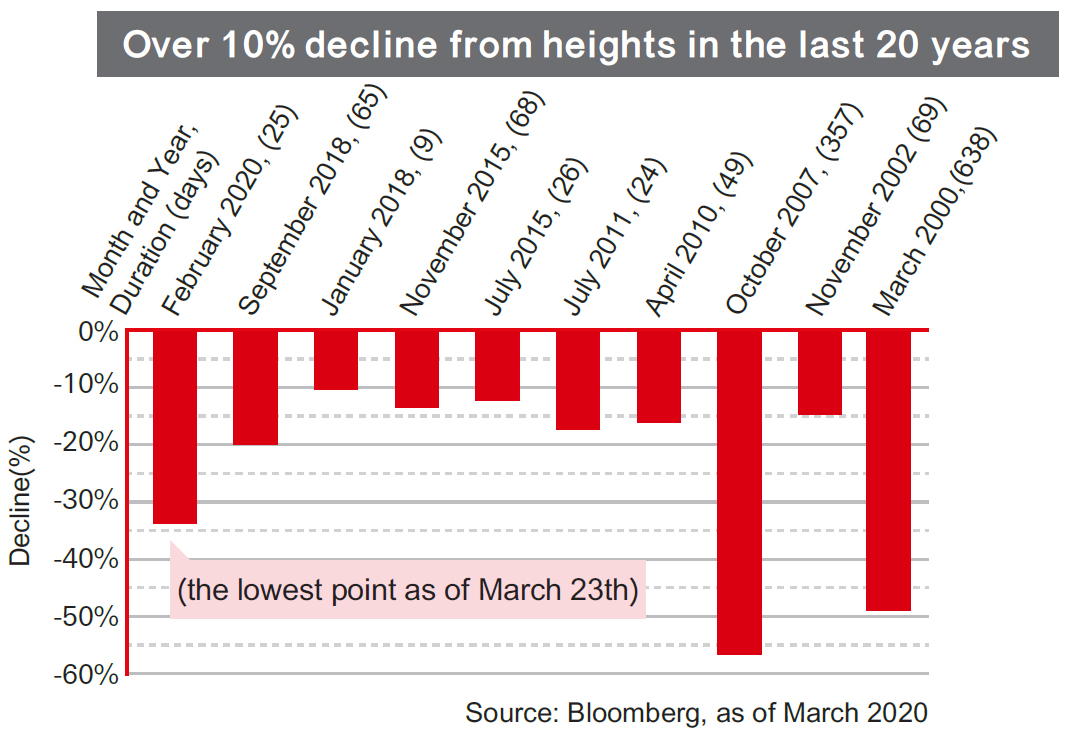 5. Stick to investment goals and don't bite off more than you can chew
Don't let short-term volatility disrupt your investment plans. Neither should you buy individual stocks just because their prices drop a lot. You should try to understand your risk appetite and financial conditions, avoid biting off more than you can chew.

6. Pay attention to disruptors in the markets
While dealing with market volatilities, always pay attention to market changes, especially long-term trends that could potentially disrupt the global economy. Only through active preparation for the next economic cycle can one seize opportunities unanticipated by others.

This document is prepared for general information purposes only and does not have any regard to the specific investment objectives, financial situation and the particular needs of any specific person who may receive it. Any views and opinions expressed are subject to change without notice. This document does not constitute an offering document and should not be construed as a recommendation, an offer to sell or the solicitation of an offer to purchase or subscribe to any investment. Any forecast, projection or target where provided is indicative only and is not guaranteed in any way. HSBC Global Asset Management (Hong Kong) Limited ("AMHK") accepts no liability for any failure to meet such forecast, projection or target. AMHK has based this document on information obtained from sources it reasonably believes to be reliable. However, AMHK does not warrant, guarantee or represent, expressly or by implication, the accuracy, validity or completeness of such information. Investment involves risk. Past performance is not indicative of future performance. Please refer to the offering document for further details including the risk factors. This document has not been reviewed by the Securities and Futures Commission.
Copyright © HSBC Global Asset Management (Hong Kong) Limited 2020. All rights reserved. This document is issued by HSBC Global Asset Management (Hong Kong) Limited.