Building the future together
Making healthcare sustainable
HSBC global sustainable healthcare equity strategy
HSBC Asset Management is proud to announce the launch of its first Sustainable Healthcare Equity strategy, a thematic fund that aims to drive social impact without sacrificing performance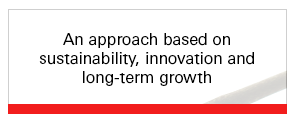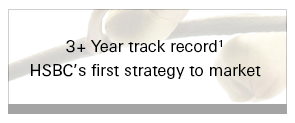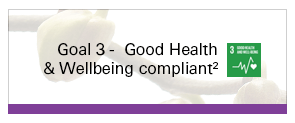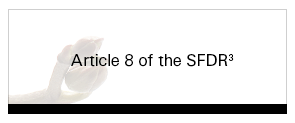 ¹ Formerly managed under a Swiss certificate before the launch in the HSBC GIF Luxembourg SICAV
² United Nations Sustainable Development Goals
³ Article 8 Product under the EU Sustainable Finance Disclosure Regulation = A financial product promotes, among other characteristics, environmental or social characteristics, or a combination of those characteristics, provided that the companies in which the investments are made follow good governance practices
Why invest in sustainable healthcare now?
Global demographic trends, combined with rising healthcare costs straining healthcare systems globally, are enhancing the demand for sustainable healthcare solutions and products
Because of rising healthcare costs, payers around the world (i.e. insurances, governments) are increasingly denying patients access to innovative treatments, which in turn negatively impacts company revenues
The healthcare system has begun to undergo massive and rapid changes to become more sustainable from a cost point of view
This macro-economic trend opens new investment opportunities in scientific, technological and business innovation that address both improved patient outcomes and cost effectiveness at the same time
Hear from our experts
Dr. Nathalie Flury and Dr. Michael Schröter, Co-heads Sustainable Healthcare, HSBC Asset Management
Sustainable Healthcare : an investment opportunity
Interview of Dr. Michael Schröter and Dr. Nathalie Flury, Co-Heads of Sustainable Healthcare Equity.
HSBC global sustainable healthcare equity strategy, an innovative and differentiated investment approach
A thematic strategy that aims to driving social impact without sacrificing performance
High conviction & bottom-up analysis paired with macro-economic trend
Sustainable, long-term growth oriented

Why consider investing in the strategy?
A changing market environment, where customers increasingly demand products and services that improve patient outcomes as well as being cost effective, requires a change in investment strategy. By following an active, bottom-up approach the strategy aims to provide attractive potential returns whilst investing in companies offering affordable innovation with distinct clinical differentiation.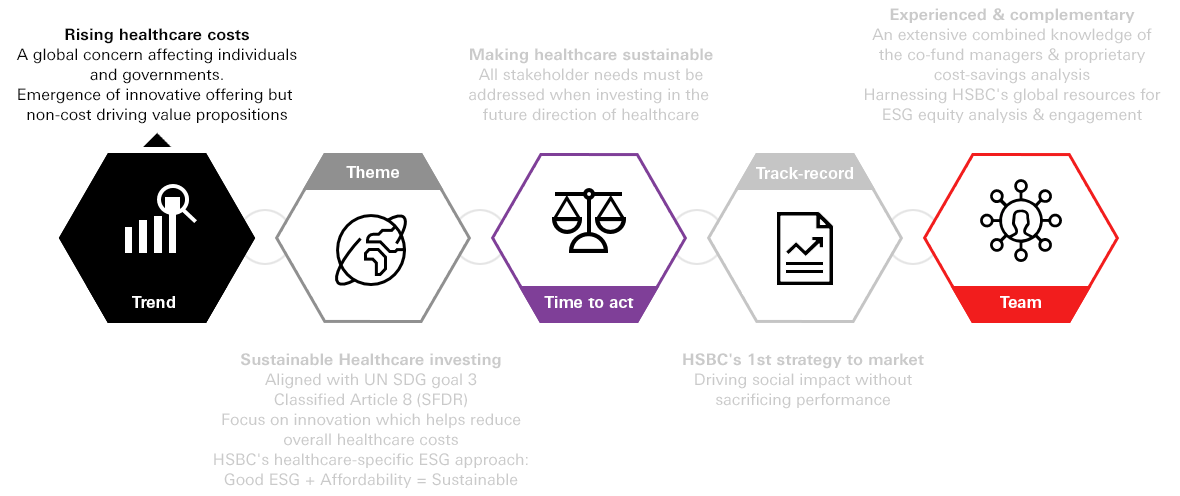 Experienced and complementary healthcare investment experts
The strategy is managed by two co-heads of Sustainable Healthcare Equity who have a successful track record managing healthcare equity strategies and who previously held executive positions in the pharma and biotech industries.
The investment team will leverage on proprietary insights driven by extensive global resources in equity and ESG research and stewardship.

Dr. Nathalie Flury
20+ years' experience as a fund manager, managing four European-based biotech and healthcare Lux. SICAV mutual funds and track record with custom made biotech and medtech mandates for family offices


Dr. Michael Schröter
20+ years' Pharma and Biotech experience in executive positions, covering access and pricing, R&D, business development and licensing in the US, Asia and the EU
Thought Leadership article
Sustainable Healthcare, healthy returns
This page is prepared for general information purposes only and does not have any regard to the specific investment objectives, financial situation and the particular needs of any specific person who may receive it. Any views and opinions expressed are subject to change without notice. This document does not constitute an offering document and should not be construed as a recommendation, an offer to sell or the solicitation of an offer to purchase or subscribe to any investment. Any forecast, projection or target where provided is indicative only and is not guaranteed in any way. HSBC Global Asset Management (Hong Kong) Limited ("AMHK") accepts no liability for any failure to meet such forecast, projection or target. AMHK has based this document on information obtained from sources it reasonably believes to be reliable. However, AMHK does not warrant, guarantee or represent, expressly or by implication, the accuracy, validity or completeness of such information. Investment involves risk. Past performance is not indicative of future performance. Please refer to the offering document for further details including the risk factors. This document has not been reviewed by the Securities and Futures Commission. Copyright © HSBC Global Asset Management (Hong Kong) Limited 2021. All rights reserved. This document is issued by HSBC Global Asset Management (Hong Kong) Limited.