Climate change – the biggest disruptor
To avoid the most dire consequences of climate change, innovation is the answer and presents an opportunity for investors.
01 December 2021
Angus Parker - Climate Change
Key takeaways
An annual decline of over seven per cent in carbon emissions is needed to limit global warming to 1.5 °C
With the global economy closing down last year, this was still not quite achieved
Economies must be redesigned if we are to avoid the most dire consequences of climate change
Innovation is the answer and presents an opportunity for long-term investors
With the global economy closing down in 2020, carbon emissions fell by nearly seven per cent. For context, a decline of over seven per cent would put us on track to meet the goal of limiting global warming to 1.5 degrees Celsius – but of course that decline would need to happen every year for the next decade. Now emissions are exceeding 2019 levels again, and that's before China's decision last month to burn more coal to address an electricity shortage. As the following chart illustrates, even if all countries were to achieve their respective commitments to reducing carbon emissions (Nationally Determined Contributions), it isn't nearly enough to meet the target of the Paris Agreement. Short of an annual pandemic therefore, solutions are needed to redesign economies.
Total greenhouse gas emissions (billion metric tons of CO2 equivalent)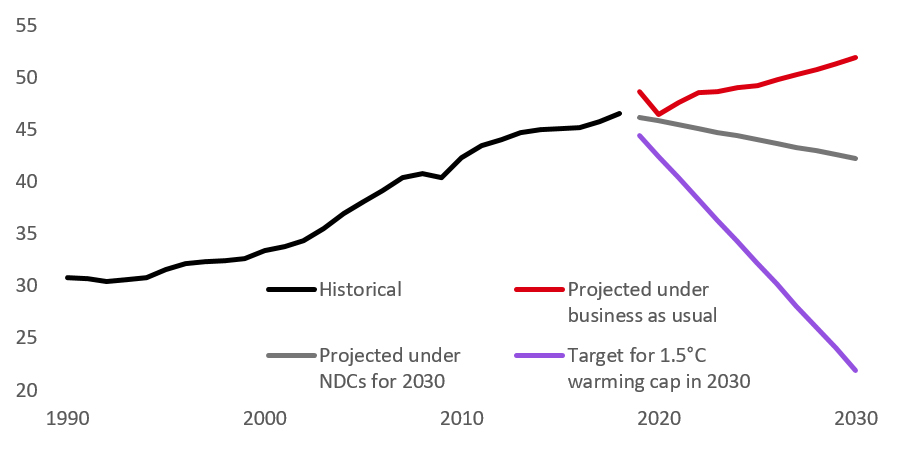 Source: IMF, Climate Change Indicators Dashboard (October 2021)
This commentary provides a high level overview of the recent economic environment, and is for information purposes only. It is a marketing communication and does not constitute investment advice or a recommendation to any reader of this content to buy or sell investments nor should it be regarded as investment research. It has not been prepared in accordance with legal requirements designed to promote the independence of investment research and is not subject to any prohibition on dealing ahead of its dissemination.
As of last year there was over USD130 billion of assets under management globally in climate change funds according to the IMF, more than double from 2019.
Investing in innovation
Innovation is the answer as well as an opportunity for investors. As of last year there was over USD130 billion of assets under management globally in climate change funds according to the IMF, more than double from 2019. While the growth trend is encouraging and can help finance the necessary innovation, it is barely a fraction of what is needed. Achieving net-zero carbon emissions by 2050 will require investment of roughly 1 percent of the world's annual output over the next two decades. This means USD20 trillion cumulatively, although other estimates call for far greater funding needs.
The International Energy Agency estimates that 70 percent of the required investment would need to come from private sources. Clearly asset managers have an important role to play in mobilising that investment. Investors looking to pursue the opportunity should ensure due-diligence, however. Investment funds with an environmental focus more often support climate-related board resolutions than conventional funds. Yet a smaller difference lately, as assets have grown, could mean greenwashing by some.
Share of votes in favour of climate-related resolutions by fund label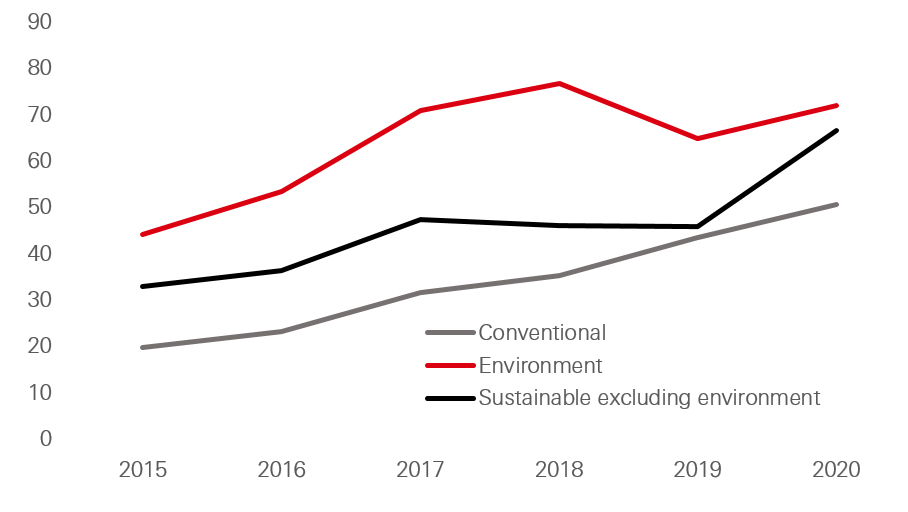 Source: Bloomberg, FactSet, Lipper, Morningstar, Refinitiv, and IMF calculations (October 2021).
Last month's Sixth Assessment report from the Intergovernmental Panel on Climate Change reinforces the urgent need to fund decarbonisation. The report finds that post-industrial revolution, mankind has caused 1.1 degrees Celsius of global warming. It also indicates that after more than a century of filling the atmosphere with greenhouse gases, our carbon budget is largely depleted. Minimising any further rise in global temperatures and the corresponding consequences requires a much broader response than simply removing fossil fuels from our energy supply. Innovation across all sectors is needed. Ironically, we now need the scale of change achieved in the aforementioned industrial revolution.
Regulating higher costs for carbon emissions will serve as a catalyst for adopting clean technologies.
Incentivising decarbonisation
Thankfully, we are seeing progress from the public sector to incentivise decarbonisation. This month's Cop26 climate change conference in Glasgow, which saw much of the world sign up to new commitments for reducing greenhouse gas emissions, should only hasten the push. Governments were already taking steps to accelerate climate solutions from the private sector as the primary source of innovation.
The European Union's recently proposed plans are an example of momentum gathering. Proposals include an acceleration in the reduction of carbon allowances under its Emissions Trading Scheme, through which companies must either reduce emissions or pay for them, and coverage of more industries in the scheme. As emissions regulations tighten, carbon prices are set to continue their steady ascent – up over 80 per cent this year alone in the EU.
Regulating higher costs for carbon emissions will serve as a catalyst for adopting clean technologies. Hydrogen for instance, is an effective energy store to compliment intermittent renewables, and produces only steam as a by-product. While little used today, higher carbon costs make it a much stronger consideration for industries where electrification is not feasible, such as heavy-duty transportation or steel production, per the chart below. Becoming more cost-competitive would speed up investment in the requisite infrastructure and allow scaling to further shift costs in hydrogen's favour. Perhaps not coincidentally, Europe currently accounts for nearly half of projected investment in hydrogen. H-powered trains have already carried passengers over 100,000 miles on trial runs in the region.
Energy costs with and without a carbon tax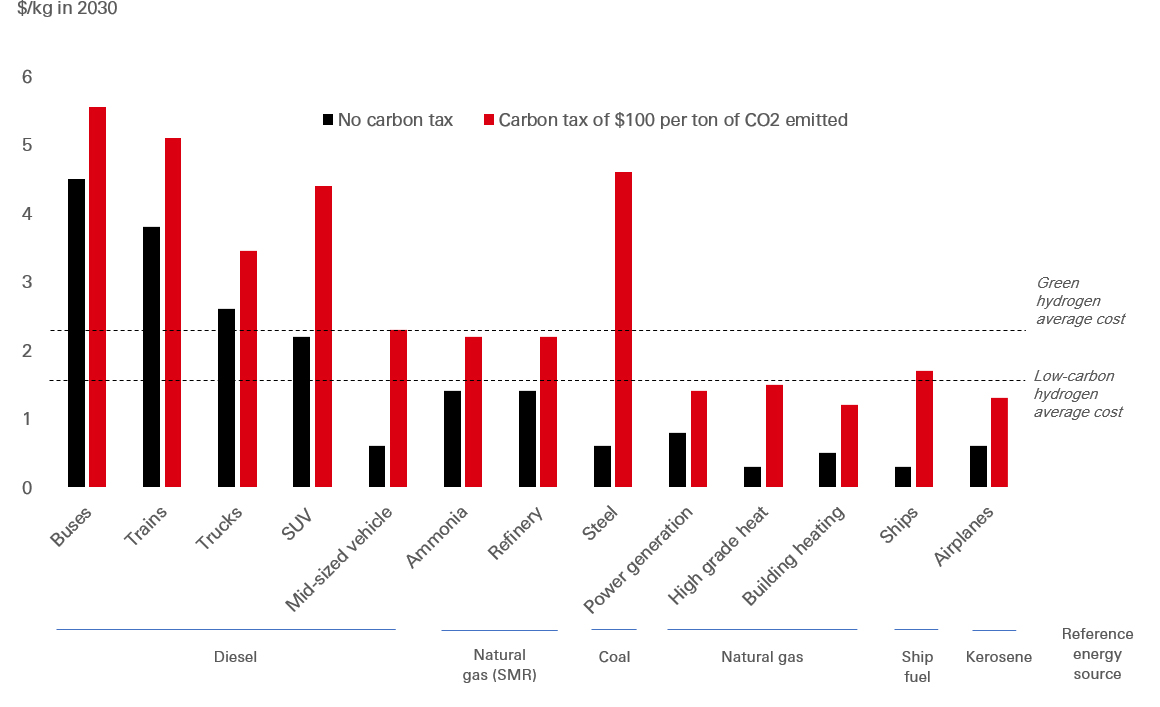 Source: McKinsey & Company: Hydrogen Insights (February 2021)
Another of the EU's recent proposals, a levy on carbon-intensive imports, would perhaps be even more consequential globally. US politicians have also proposed a carbon tax on imports entering their shores, substantially magnifying the potential impact.
Should these plans become policy, it means carbon-intensive exporters such as China and India would be incentivised to speed up their energy transition plans, which have lagged developed markets. Indian exports, for example, are more than four times as carbon intensive as the US, and ten times more so than the EU based on 2015 OECD data.
Projected 2030 emissions change from 2010 levels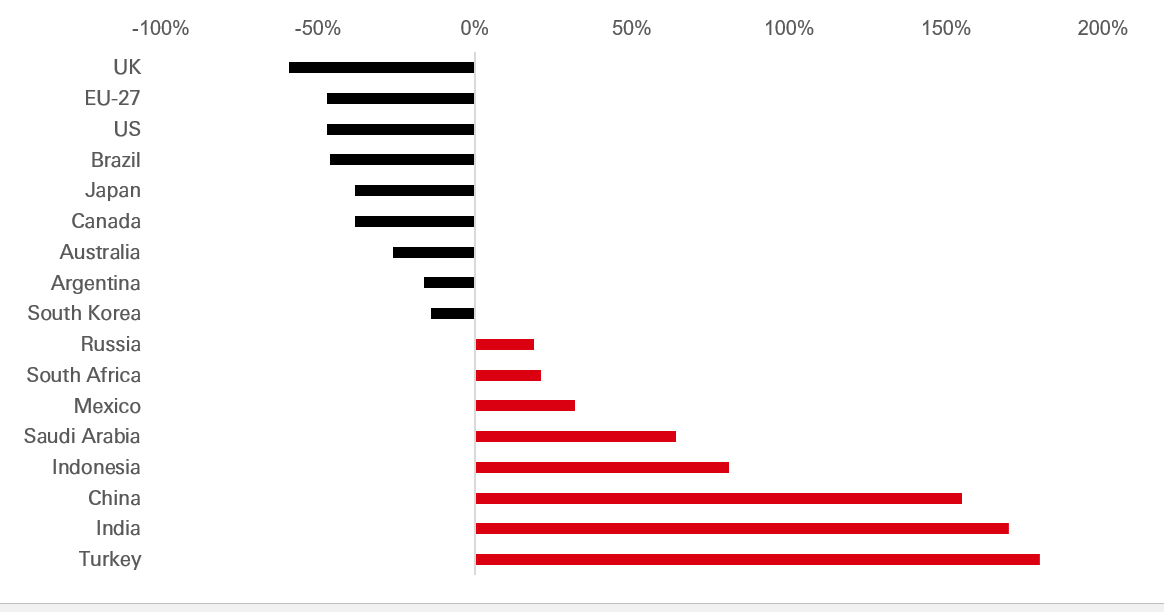 Source: BloombergNEF, April 2021
Over half of investment in climate solutions will be needed in Asia.
Private investment, which accounts for only a fraction of current financing, can help fill voids left by governments.
Regional differences
The prior chart doesn't paint Asia's biggest developing countries in a positive light. However, developed nations largely outsourced carbon intensive industries over the past decades, contributing to this picture. Asia's developing economies are also projected to grow the most, placing them at a disadvantage in terms of emissions reductions.
Nonetheless, an immediate focus on powering growing economies can conflict with goals to decarbonise. For its part, China alone generated about the same amount of carbon emissions as the next four countries combined in 2019, according to Bloomberg. This is why aligning priorities globally will be vital. The Cop26 announcement by the US and China that they will work together on reducing emissions, as the world's two largest economies, is a step in the right direction.
Beyond cooperation, and regulations that encourage decarbonisation, the hope is that rich nations will stick by their commitments to provide financing support to their developing peers. While emerging markets are responsible for most of the emissions growth today, they are least responsible for historical emissions and are left most exposed to the impacts of climate change given their lack of resources, comparatively. South Asia for instance, which is expected to be the strongest area of economic growth next year, relies on agriculture for roughly a fifth of its output. The region is staring down monumental risk from falling crop yields as the climate changes.
Some USD100 billion annually in financing was promised to developing countries to help curb emissions and mitigate climate change impacts as part of the Paris Agreement. This funding would allow developed nations to take some responsibility for their historical emissions, and help emerging economies curb their emissions without damaging growth ambitions. Yet rich nations are more than a day late and a dollar short, as the saying goes. The start date of achieving the annual climate financing sum has been pushed back from 2020 to 2023 – a newly confirmed date only achieved through negotiations at Cop26.
With more funding support today, much of the investment opportunity for climate solutions is found in developed markets. Nonetheless, we believe there will be substantial opportunity for investment impact in Asia, with large growing populations where much of the incremental emissions are coming from. India, home to nearly a fifth of the world's population, and expected to deliver more economic growth than any other leading economy in the years ahead, just made its first commitment to carbon neutrality at Cop26. Such considerations are why the Global Financial Markets Association estimates that over half of investment in climate solutions will be needed in Asia. Private investment, which accounts for only a fraction of current financing, can help fill voids left by governments.
Climate financing for developing by developed countries (USD billion)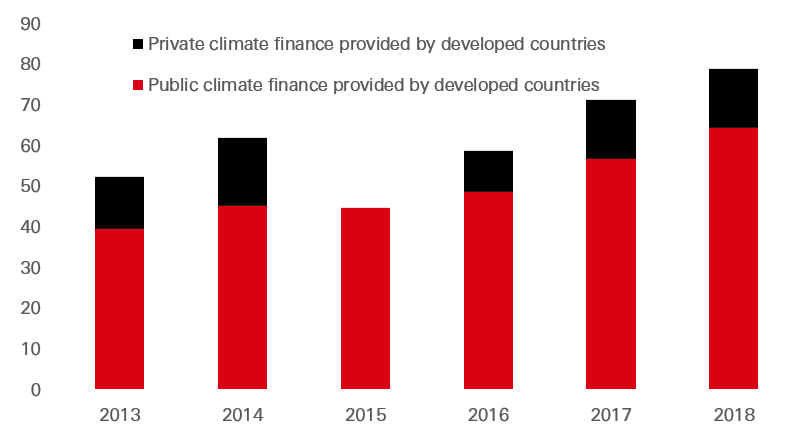 Source: OECD, December 2020 (2015 data for private climate finance not available)
Disruption forces change. The scale of change is creating investment opportunities across markets.
Investment implications
Mass adoption of renewable energy is key to tackling climate change, but is only part of the story. Societies must gain far more efficiency in our consumption of basically everything. Climate related problems such as falling crop yields, water scarcity and soaring lumber prices are awakening consumers to the need for a more circular economy where waste is limited and materials are re-used. Likewise, the realisation that we are already too late to avoid negative consequences from climate change will force spending not only on mitigation strategies, but also climate adaptation strategies, which HSBC analysts estimate were only 5 per cent of public spending on climate action a couple of years ago.
According to a 2018 report by the Carbon Disclosure Project, nearly half of the world's largest 500 companies risk losing an estimated one trillion dollars within five years from climate change impacts. Such disruption forces change. The scale of change is creating investment opportunities across markets.
As opposed to pursuing these opportunities through the lens of traditional stock market sectors, we think it is more beneficial to pursue sub themes that address the energy transition, such as energy efficiency or natural capital and ecosystems. On the latter theme, the Cop26 pledge to end deforestation by more than 100 nations, representing roughly 85 per cent of the world's forests, continues a growing realisation of the value of nature in mitigating climate change. Land and oceans have absorbed over half of CO2 emissions since the 18th century after all2. Furthermore, it is estimated that nature-based solutions can deliver up to a third of net emission reductions needed by 20303. Importantly, the pledge to end deforestation includes nearly USD20 billion in public and private funding.
The overdue realisation of what is at stake to all is increasingly mobilising investment to accelerate decarbonisation. This month's discussions between global leaders in Glasgow saw significant sums pledged to finance the necessary innovation. Prolific innovator, Bill Gates, joined the fray in formalising a partnership with the European Union to raise USD1 billion towards clean tech projects. A bigger collaboration, coined The Glasgow Financial Alliance, reached 450 members (including HSBC) and now controls USD130 trillion of assets committed to decarbonisation.
The growing capital available is good news for innovation and solutions. Therein lies the emerging opportunity. It is also encouraging that investors can feel spoiled for choice with a growing number of climate-themed investment funds. However, not all funds are created equal. Ensure your investment is capturing the innovation afoot to tackle climate change, via a manager with the requisite knowledge to pursue the right opportunities globally.
2 IPCC, 2021: Climate Change 2021: The Physical Science Basis. Contribution of Working Group I to the Sixth
Assessment Report of the Intergovernmental Panel on Climate Change
3 World Economic Forum – Nature and Net Zero, May 2021