Outlook 2019: What are the risks?
A series of volatility waves have damaged asset class returns in 2018 and, looking ahead, the macro and political environment remains tricky.
14 December 2018
A series of volatility waves have damaged asset class returns in 2018 and, looking ahead, the macro and political environment remains tricky. As investors we need to differentiate the signal from the noise whilst continually monitoring the key risks to our outlook. As always, much can happen to challenge our baseline scenario in 2019.
What could go wrong? #1 Inflation shock
The key high impact negative surprise remains overheating in the US and faster-than-expected inflation. We label this as an "inflation shock". As much as an increase in CPI inflation rates, what we mean by this is a material shift in the market psychology around upside inflation risks. For now, the risk of this is being ignored as the market focusses on recession risks instead. This means that there is scope for surprise in inflation expectations.
How could this happen? Today inflation trends remain subdued. Statistically-speaking, inflation trends tend to build gradually. This could mean the risk will become more pronounced beyond 2019, but it is nevertheless an important scenario for investors to keep in view because it would force the Fed to raise rates, and it would require a significant re-pricing of US bonds. After an already strong performance of the dollar in 2018, it's not obvious to see which asset class could be a "safe haven" for multi-asset investors under this scenario.
When thinking about how this impacts broader price pressures, US core inflation seems likely to remain around current levels in the near term. Instead, pressures are likely to build later in 2019 with an upside inflation shock, rather than a recession, likely to be the greater risk to the outlook.
Figure 1: Risk compass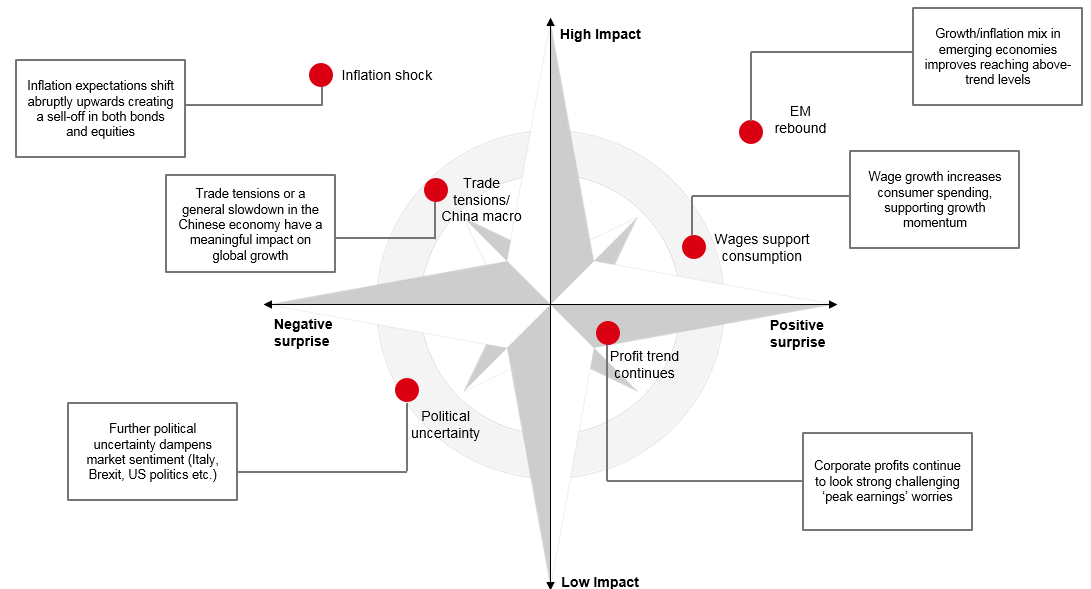 Source: HSBC Global Asset Management, November 2018. For illustrative purposes only.
What could go wrong? #2 China slowdown and rising trade tensions
The other notable risk in our view is a sustained cyclical slowdown in China, linked to potentially escalating trade tensions. If President Trump extends US tariffs to cover most imports from China at a rate of 25%, Chinese growth could suffer a meaningful slowdown. Moreover, other Asian economies – particularly South Korea and Taiwan – could be caught in the cross-fire given their large trade exposures to both the US and China. The comforting news is that this risk is by now well-known to market participants, and, at least, partly reflected in pricing.
Moreover, there is some offset to the prospect of a continued China slowdown in the form of easing monetary and fiscal policy. Despite the well-flagged fears around a deterioration in the growth outlook, we believe that, overall, the Chinese economy has held up better than expected. And, elsewhere, we are now seeing some early signs of rebound in export data in both South Korea and Taiwan, although it remains to be seen if this becomes a sustained pick-up.
What could go right? #1 EM rebound
On the positive side, one development could be an EM rebound. 2018 has seen EM ex China growth slow markedly. We've moved away from the "economic sweet spot" of above trend growth and around target inflation to growth now running around its five-year average pace and inflation tracking above target.
More broadly, it seems like everything that could have gone wrong for emerging markets has happened this year i.e. dollar shock, rising US treasury yields, China slowdown, trade tensions between the US and China resulting in a series of tit-for-tat tariff increases in 2018, idiosyncratic risks in weaker economies (i.e. Turkey and Argentina), a further worsening in EM sentiment which ultimately added to a broader fall in EM growth momentum. This culminated in a "doom loop" dynamic in EMs.
Of course, given what unfolded in 2018, there is plenty of reason to be gloomy on EM economies but, in our view, these risks are now well-priced. While investor concerns have calmed materially since Q3 2018, the market is still ignoring the prospect of some positive developments or, at the very least, no "new news" that could further damage sentiment. In our view, the latter could be enough to drive a rebound in EM assets.
Other risks
Alongside this, there are a number of other risks as well. One thing that could go wrong for the outlook is the impact of ongoing political uncertainty in Europe. On the flipside, one of the things that could go right is a continuation in profit trends. While it is clear that we have moved away from the Goldilocks environment of outsized profits, a continuation of today's still decent levels of profitability is a reasonable scenario for 2019. This could be enough to challenge today's market narrative around reaching "peak earnings".
Another positive development to the outlook is the prospect of building wage pressures (particularly in the US) helping to boost consumer spending and providing the next leg of growth, especially in an environment where global monetary policy is moving towards neutral territory.
Conclusion
As investors, we need to be aware of risks to the macro outlook and adaptive to a changing backdrop. One of the ways we can do this is to find opportunities to build portfolio resilience (e.g. harvest carry in short duration US fixed income markets) whilst complementing this with backing growth in asset classes where we think risk is being well rewarded (e.g. EM assets).
The views expressed herein do not constitute investment advice, research or trade recommendation. Such views are the personal views of the author only and do not necessarily represent the views of HSBC Global Asset Management (Hong Kong) Limited.