Outlook 2019: Investment strategy themes
We need to adapt our strategy to a changing macro environment and keeping this in mind we've identified three key investment themes for 2019
07 December 2018
We need to adapt our strategy to a changing macro environment and keeping this in mind we've identified three key investment themes for 2019:
Theme #1: Growth at a reasonable price
Market perceptions of growth have not continued the upward trend of 2017. Instead, the end of January 2018 saw a marked shift away from the regime of "Goldilocks" with market pricing now discounting more of a growth-slowdown scenario. There is anxiety about recession risk with market participants focussed on the timing of the next downturn. Growth concerns are front of mind rather than inflation risks.
In reality, the risk of a significant growth slowdown looks low to us. Moreover, corporate fundamentals still look strong and profit margins have improved over the year despite poor equity performance (see Figure 1). At the same time, credit fundamentals have also improved (lower default rates, leverage is at moderate levels and interest coverage is high). The prospect for sustained good earnings and low default rates looks good (see Figure 2).
Figure 1: Net profit margins have increased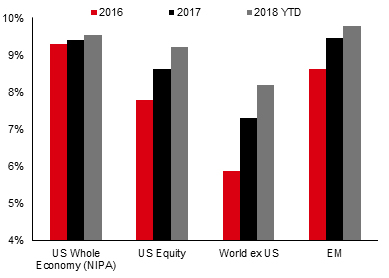 Source: Bloomberg, HSBC Global Asset Management, November 2018. Investment involves risks. Past performance is not indicative of future performance.
Figure 2: Global default rates have moved lower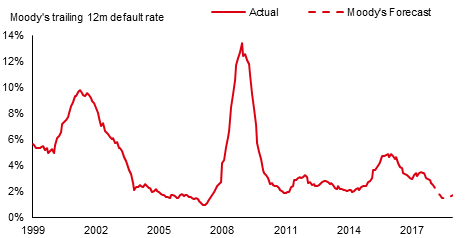 Source: Bloomberg, HSBC Global Asset Management, November 2018. Any forecast, projection or target where provided is indicative only and is not guaranteed in any way. HSBC Global Asset Management (Hong Kong) Limited accepts no liability for any failure to meet such forecast, projection or target
Against this backdrop, it still makes sense to remain pro-risk but it is not a straightforward environment for risk asset classes – investors need to be adaptive. This means that we think there is an opportunity to "back growth" where valuations are still reasonable. We still prefer to do this through global equities rather than through global credits, but credits have become a bit more attractive. For us, current valuations imply that we should focus our tactical risk budget on Asian equities and emerging market equities.
Theme #2: Is safety "safe"?
This year has seen 10-year Treasuries disappoint as a "diversifier" asset (see Figure 3). Following the significant re-pricing of US fixed income assets, our measure of the US "bond risk premium" (the future reward for owning bonds over cash) has increased during the year and is now slightly positive. Is this enough to make US bonds "safe" again and be an effective diversifier for multi-asset investors?
To answer this, we need to think about whether this trend in higher US rates can continue. So far, the yield moves this year have been a real rate story with the market adjusting its view of interest rate expectations closer to the Fed. Given this, and the market complacency in discounting rising inflation, the key risk to the long bond is now a move higher in US inflation expectations. Although prospective returns have improved, the bond risk premium is not materially positive and today's environment makes it trickier to have an outright directional view on 10-year US Treasuries.
On balance, we are still inclined to be underweight duration on a global basis, but relative to where we were last year, overall portfolio duration should increase. We believe US Treasuries are the most attractive asset class in global rates, and we prefer the short-end and the belly of the curve. The clearest view we have at present is a relative value trade between more attractive US Treasuries and very expensive German Bunds.
Figure 3: US treasuries have not helped in equity sell-offs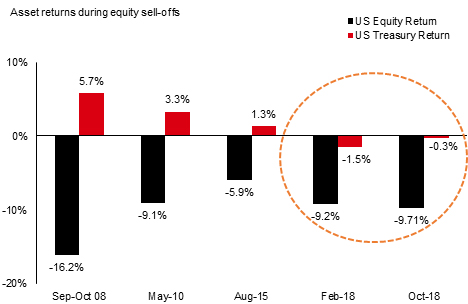 Source: Bloomberg, HSBC Global Asset Management, November 2018.
Theme #3: Portfolio resilience
Related to the re-pricing in US treasuries, and given that it remains a tricky macro environment, is the idea that we increasingly see a number of ways to build "portfolio resilience" in multi-asset portfolios.
Over the past decade, an environment of ultra-low bond yields has meant investors could not earn decent income from government bonds and have had to go further out on the risk spectrum, into riskier fixed income and perhaps equities, in their "search for yield". An improvement in US fixed income valuations during 2018 means that investors can now buy some short-duration, defensive asset classes at potentially better prices. If we look at short-duration parts of US rates and US credits today, many traditionally "safe" asset classes are now offering much better carry than in previous years. This shift in pricing allows us to add some shock-absorbing and diversifying fixed income asset classes to our multi-asset portfolios; a good hedge in case the macro landscape evolves less favourably than we suppose or in the case of rising rates. (See figure 4)
Figure 4: US rates versus S&P 500 dividend yield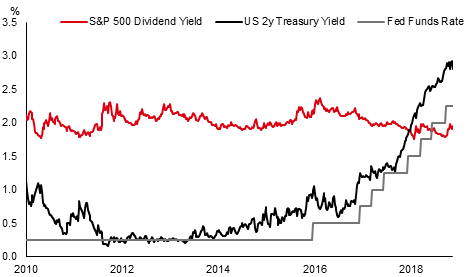 Source: Bloomberg, HSBC Global Asset Management, November 2018.
The views expressed herein do not constitute investment advice, research or trade recommendation. Such views are the personal views of the author only and do not necessarily represent the views of HSBC Global Asset Management (Hong Kong) Limited.