Joanna Munro - New Global Chief Investment Officer
23 September 2019
Joanna Munro assumes new role as Global Chief Investment Officer.
I am extremely proud to have been appointed and excited to start a new challenge at HSBC Global Asset Management. I look forward to working with my colleagues to meet our clients' evolving investment needs.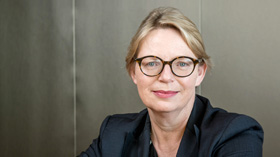 Joanna steps into this role with over 30 years' experience, and brings deep industry knowledge, paired with a proven track record in managing and developing global businesses.
Joanna was previously Global Head of Stewardship and Fiduciary Governance and Chairperson of HSBC Global Asset Management UK. She joined HSBC Global Asset Management in 2005 as Global Chief Investment Officer of HSBC Investments and has held roles as CEO of HSBC multi-manager, Global Head of Product and CEO of HSBC Asset Management Asia-Pacific.
Joanna also plays a leadership role in a number of external industry activities, including as a Director of the Investment Association in the UK and a founding member of the Diversity Project, where she was one of the initiators of the Early Careers Workstream.
Joanna was previously a non-Executive Director of the CFA UK and a member of its Advisory Council. Last year, Joanna was named one of the "100 Most Influential Women in Finance" by Financial News.