Chinese equities: One-on-one interview
Joy Yuan, Portfolio Manager, Chinese Equities, highlights the key trends driving the equity market and the outlook for the rest of the year
31 January 2020
Key takeaways
A continued calibrated policy approach will ensure a stabilising or even slightly improving macro economic outlook going into the Year of the Rat (beginning 25th January)
Valuation of offshore Chinese equities looks very inexpensive, while the A-share market offers unique/ quality exposure to consumer and technology sectors
Thematically, tech and innovative biotech companies offer interesting investment opportunities against the backdrop of the country's economic rebalancing
China's headline economic growth is moderating and is projected to be around 6 per cent in 2020. What's your assessment of the economy in the Year of the Rat?
Joy: First of all, the initial trade agreement with the US, which was signed on 15th January, is positive for the macro outlook, alongside the green shoots we've seen in global manufacturing and trade.
Domestically, macro policy easing has succeeded in managing the pace of economic slowdown with an aim to stabilise growth, rather than to drive a significant rebound in economic activity.
This suggests a calibrated policy approach will stay in place to ensure growth remains at the government's target level of around 6 per cent.
Among the three major economic pillars, consumer spending has been stable. For investments, infrastructure investment is expected to pick up under the current policy measures, to cushion against the moderating property investment. At the same time, exports should remain relatively stable and we may see some recovery if the trade tensions ease further.
In summary, we expect a stabilising, or slightly improving macro economic outlook going into the Year of the Rat.
Fig 1: China PMI surveys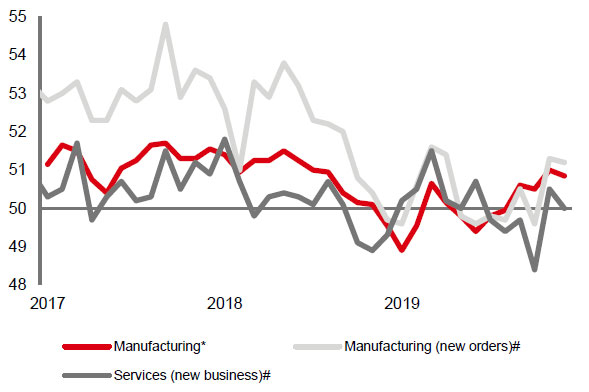 Fig 2: China: exports vs. official manufacturing PMI new orders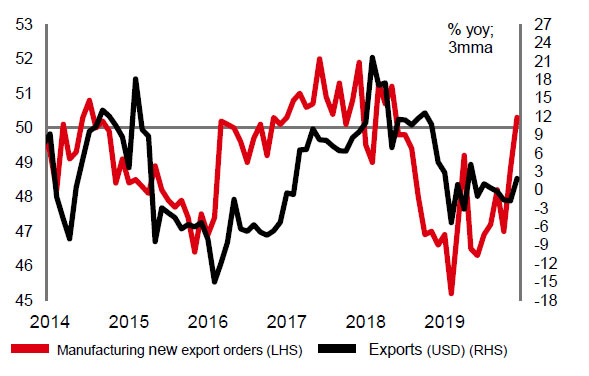 Note: * Average of official and Caixin PMIs; # only official PMIs
Source: CEIC, Bloomberg, HSBC Global Asset Management, January 2020
In 2019, we saw onshore Chinese equities bounce back from being among the worst performing markets to among the best performing amidst policy support. What's the 2020 outlook for onshore and offshore Chinese equities?
Joy: What made the A share theme play out so well in 2019 was actually the beaten down valuations at the beginning of 2019, after an eventful 2018. In addition, resilient corporate earnings added fuel to the rally during the course of the year.
Onshore-listed China A-shares and offshore listed H-shares gained 36 per cent and 20 per cent in 2019, mainly driven by a mean reversion.
Looking ahead into this year, a stable macro outlook, resilient corporate earnings, very attractive valuation for a majority of the universe, are all very conducive for offshore Chinese equities to outperform other markets.
At the same time, we continue to see many potential investment opportunities in the A share space, on a more selective basis
The market rally in December was mostly led by cyclicals, While in January until now, the consumer and technology names have the leaders. What's your preferred sectors in the Year of the Rat?
Joy: We focus on bottom up stock selection rather than taking aggressive directional beta bets. Our research effort is very focused on making internal earnings forecasts and identifying potential earnings surprises ahead of the curve, which has been a major source of alpha generation for us.
Fig 3: Price-to-earnings (MSCI China)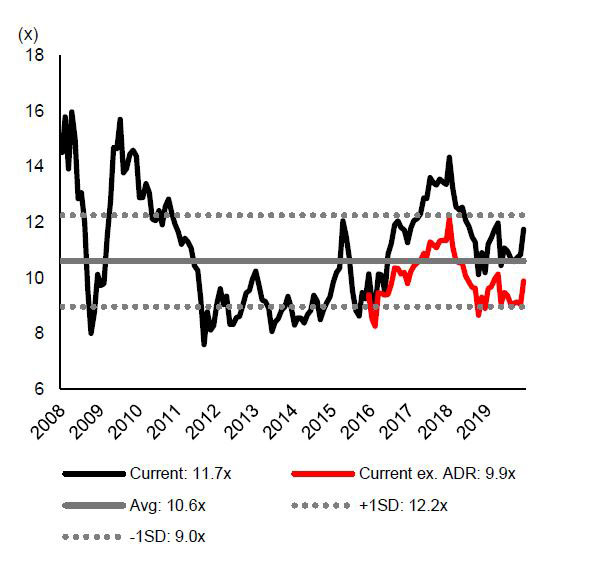 Source: MSCI, Bloomberg, HSBC Global Asset Management, January 2020
We prefer companies with quality, structural growth at reasonable prices, and with earnings upside. This includes selective consumer, healthcare, technology and new energy names.
On the other hand, we are value oriented and value driven. We are looking to add to names that are mostly deviated from their historical means with signs of business improvement, such as stocks within the telecommunications sector.
Manufacturing upgrade, the pick up in middle class spending and technological advancements were the major investment ideas over the past few years.
What are some of the key investment themes looking ahead?
Joy: From an investment perspective, technology remains a big theme. Many tech companies are delivering strong earnings growth and seeing upward earnings revisions, due to better product mix, market share gain, import substitution or new product cycles, ahead of the highly anticipated 5G rollout this year.
Meanwhile, pre-profit innovative biotech companies offer interesting investment opportunities, as there is a drastic shift in medical insurance spending from generics to innovative drugs ongoing in China.
However, similar to investing in the technology sector, it requires substantial industry expertise and bottom-up fundamental research efforts. For us, the pick-up in these highly specialised sectors offer great opportunities to generate alpha by leveraging on our team's expertise, knowledge, and HSBC Global Asset Management's sophisticated bottom up investment process.
Fig 4: Dividend yield (MSCI China)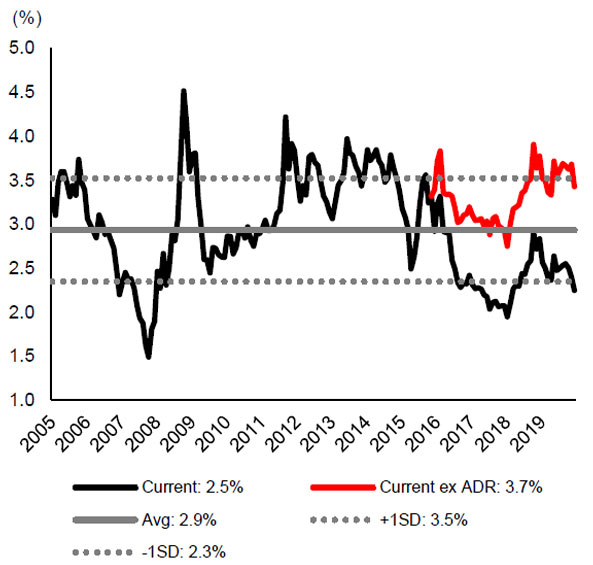 Important information
The value of investments and the income from them can go down as well as up and investors may not get back the amount originally invested. Past performance contained in this document is not a reliable indicator of future performance whilst any forecasts, projections and simulations contained herein should not be relied upon as an indication of future results. Where overseas investments are held the rate of currency exchange may cause the value of such investments to go down as well as up. Investments in emerging markets are by their nature higher risk and potentially more volatile than those inherent in some established markets. Economies in Emerging Markets generally are heavily dependent upon international trade and, accordingly, have been and may continue to be affected adversely by trade barriers, exchange controls, managed adjustments in relative currency values and other protectionist measures imposed or negotiated by the countries with which they trade. These economies also have been and may continue to be affected adversely by economic conditions in the countries in which they trade. Mutual fund investments are subject to market risks, read all scheme related documents carefully.
The contents of this document may not be reproduced or further distributed to any person or entity, whether in whole or in part, for any purpose. All non-authorised reproduction or use of this document will be the responsibility of the user and may lead to legal proceedings. The material contained in this document is for general information purposes only and does not constitute advice or a recommendation to buy or sell investments. Some of the statements contained in this document may be considered forward looking statements which provide current expectations or forecasts of future events. Such forward looking statements are not guarantees of future performance or events and involve risks and uncertainties. Actual results may differ materially from those described in such forward-looking statements as a result of various factors. We do not undertake any obligation to update the forward-looking statements contained herein, or to update the reasons why actual results could differ from those projected in the forward-looking statements. This document has no contractual value and is not by any means intended as a solicitation, nor a recommendation for the purchase or sale of any financial instrument in any jurisdiction in which such an offer is not lawful. The views and opinions expressed herein are those of HSBC Global Asset Management Global Investment Strategy Unit at the time of preparation, and are subject to change at any time. These views may not necessarily indicate current portfolios' composition. Individual portfolios managed by HSBC Global Asset Management primarily reflect individual clients' objectives, risk preferences, time horizon, and market liquidity.
We accept no responsibility for the accuracy and/or completeness of any third party information obtained from sources we believe to be reliable but which have not been independently verified.
Source: MSCI. The MSCI information may only be used for your internal use, may not be reproduced or redisseminated in any form and may not be used as basis for or a component of any financial instruments or products or indices. None of the MSCI information is intended to constitute investment advice or a recommendation to make (or refrain from making) any kind of investment decision and may not be relied on as such. Historical data and analysis should not be taken as an indication or guarantee of any future performance analysis, forecast or prediction. The MSCI information is provided as an "as is" basis and the user of this information assumes the entire risk of any use made of this information. MSCI, each of its affiliates and each other person involved in or related to compiling, computing or creating any MSCI information (collectively 'the MSCI Parties') expressly disclaims all warranties (including, without limitation, all warranties of originality, accuracy, completeness, timeliness, non-infringement, merchantability and fitness for a particular purpose) with respect to this information. Without limiting any of the foregoing, in no event shall any MSCI Party have any liability for any direct, indirect, special, incidental, punitive, consequential (including, without limitation, lost profits) or any other damages. (www.msci.com)
Copyright © HSBC Global Asset Management (Hong Kong) Limited 2020. All rights reserved. No part of this publication may be reproduced, stored in a retrieval system, or transmitted, on any form or by any means, electronic, mechanical, photocopying, recording, or otherwise, without the prior written permission of HSBC Global Asset Management (Hong Kong) Limited.
This document has not been reviewed by the Securities and Futures Commission.
HSBC Global Asset Management is the brand name for the asset management business of HSBC Group. The above communication is distributed in Hong Kong by HSBC Global Asset Management (Hong Kong) Limited.
---
Getting started

Learn more about HSBC funds

Find out how to invest

Individual investors
Financial intermediaries
Institutional investors

—