China fixed income: One-on-one interview
Ming Leap, Portfolio Manager, Asian Fixed Income, shares his views on what will define the China fixed income market looking ahead
31 January 2020
Key takeaways
Spurred by global monetary easing, led by the US central bank's dovish pivot in 2019, both equities and bonds marked a year of excellent returns. Risk assets continued to rally at the start of 2020, following the announcement of a China-US phase 1 trade deal and a rebound in activity data in China. In the Year of the Rat (beginning January 25), what can international investors expect from the Chinese bond market? In this interview, Ming Leap, Portfolio Manager, Asian Fixed Income, shares his views on what will define the China fixed income market looking ahead, and highlights key investment opportunities in this asset class.
On the back of a global economic slowdown, a temporarily truce in the trade conflict with the US and sluggish growth in investment and manufacturing, what's the policy outlook for China in the Year of the Rat?
Ming: We began 2020 with a 50bps cut in the reserve requirement ratio (RRR) effective 6th January. The move injected about RMB800 billion of liquidity into the banking system, addressing the seasonal liquidity needs ahead of the Chinese New Year holidays. The latest RRR cut provides support to the private sector, especially small and private businesses, and signals the government's commitment to offsetting downside risks to the economy.
Going into the Year of the Rat, while most central banks will be on hold, we believe the pace of easing is likely to continue in China, with the People's Bank of China playing catch-up with the rest of the world in terms of monetary policy. But rather than widespread and across-the-board easing, measures will be surgical and targeted to key sectors as reforms, transformation of the economy and de-leveraging continues.
On the monetary policy front, targeted liquidity injections and prudent cuts in benchmark rates will ease overall borrowing costs to offset the downside risks to the economy. Reforms will progress in order to improve the transmission mechanism to the private sector and the real economy. Meanwhile, fiscal policy will likely focus on ensuring transmission and effectiveness of various measures into the real economy.
Fig 1: Lowering the cost of money to support growth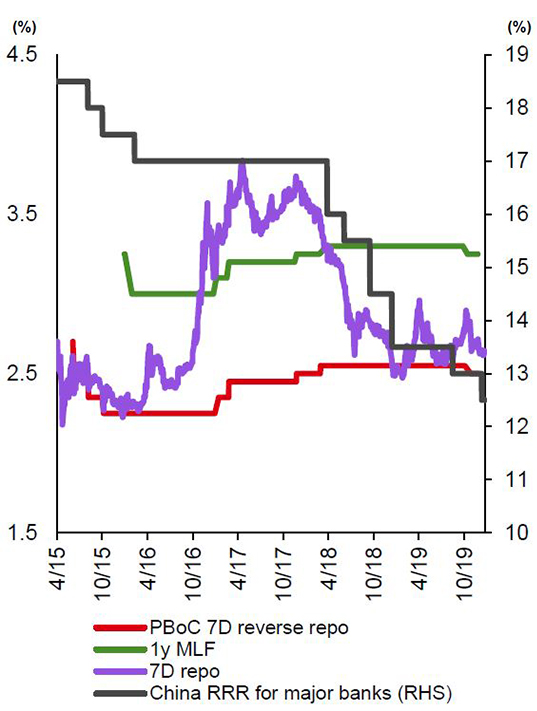 Source: PBoC, HSBC Global Asset Management, data as of Jan 2020
Why should investors consider investing in Chinese bonds in the current environment?
Ming: Low yields globally remain a structural issue challenging strategic asset allocation and prompting greater regional diversification, including to China, in our view.
For yield-hungry investors, RMB sovereign bond valuations are very attractive especially when considering the fact that a quarter of global bonds are offering negative yields. Even after hedging the currency back to the US dollar or Euro, RMB bonds offer a substantial yield pick-up. The low correlation with other asset classes makes them appealing from a diversification standpoint.
Looking into 2020, we still see value in sovereign and policy bank notes, valuations of which are more attractive than those of developed markets. With the expectation for accommodative policies ahead, we see a steeper yield curve as an opportunity to extend duration within investment grade.
On the corporate side, China dollar bonds still enjoy the so-called "Asian Premium" as they offer attractive valuations, good liquidity with a shorter duration, when compared with US credit market, USD emerging market or Euro credit.
The currency, RMB, should be supported by inflows into bond and stock markets and a weakening USD trend as global risks recede. The reprieve in China-US trade tensions should also help the currency which has underperformed other Asia peers in 2019.
Fig 2: Chinese gov't bonds offer attractive yields
Yield on 10-year government bond (%)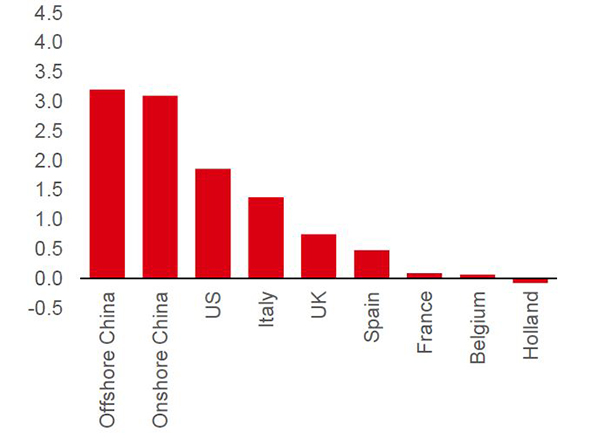 Source: Bloomberg as of January 2020
Fig 3: The "Asia Premium" over developed markets peers
Spread (bps)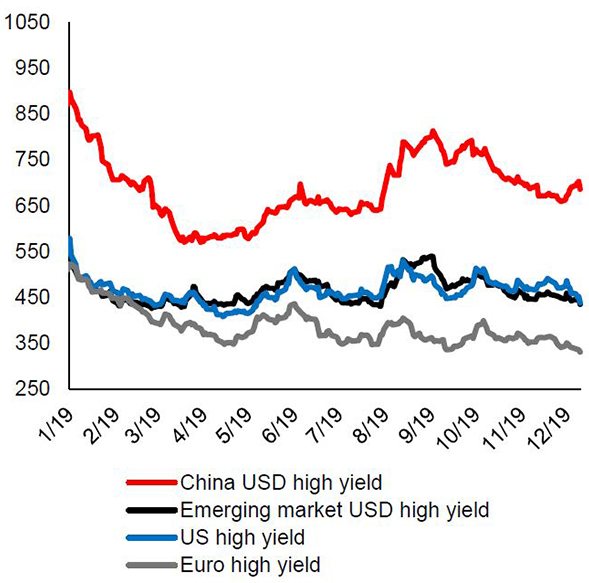 Source: Bloomberg, HSBC Global Asset Management, December 2019
What's the default outlook for Chinese bonds?
Ming: The overall pace of defaults in 2019 was similar to that witnessed in 2018, with 35 new defaults in onshore bonds and 6 defaults in the offshore market.
While investors are keen on monitoring how these credit events will play out, the gradual change in the government's stance, allowing certain debt heavy, less strategically important state-owned enterprises default could be vital to successful credit selection in 2020.
Fig 4: China onshore bond defaults since 2014
RMB bn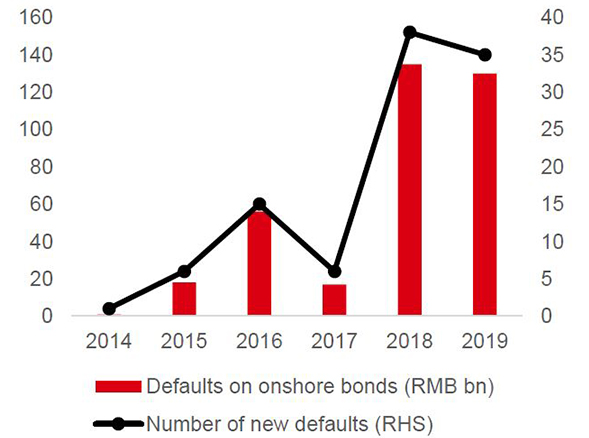 Source: Wind as of January 2020
To achieve high quality, sustainable growth in the longer term, it is paramount for China to reallocate its resources from these less productive SOEs to profitable privately owned enterprises.
On a positive note, the China US dollar property bonds should benefit from a slightly more supportive regulatory framework and a stricter system of offshore quotas limiting new bond supplies to refinancing existing bonds only.
In this complex corporate environment, our onshore-offshore cross-border credit research platform and our unified investment process are essential to navigating a more selective and discriminative market.
Fig 5: China USD IG bonds: Fundamentals remain intact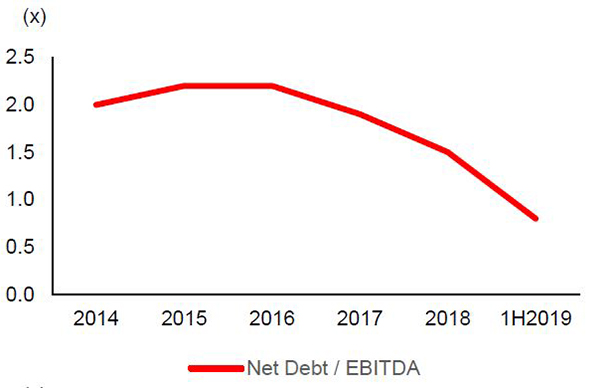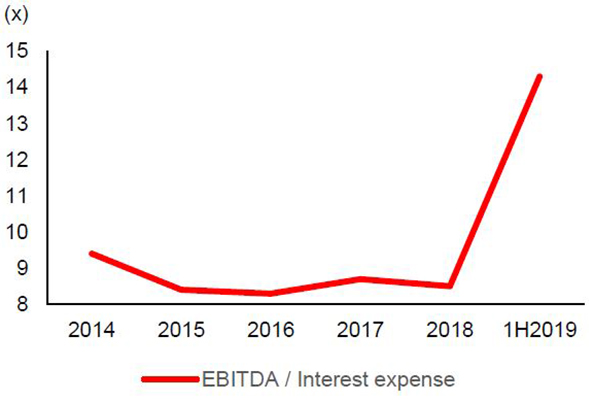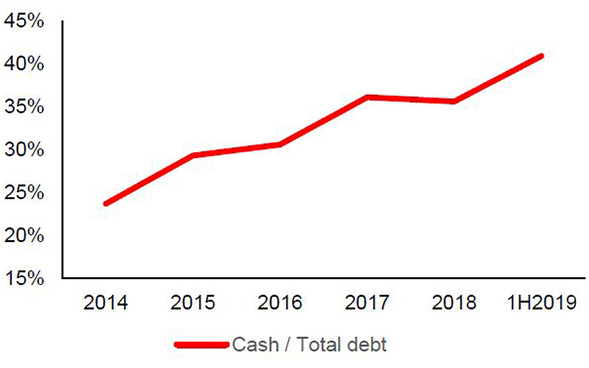 Source: JP Morgan as of December 2019
As part of China's long-term plan to open up its domestic capital markets, the pace of structural reforms accelerated and onshore bonds were included in a major global index for the first time last year. What are the key market events investors should pay attention to in 2020?
Ming: In 2019, we saw a significant pick-up in usage of bond connect, harmonisation of the access channels for onshore bonds through the removal of quotas and index inclusion by Bloomberg Barclays.
As a result, international participation in China onshore bonds has picked up momentum, pushing the total amount of foreign holdings to exceed the RMB2 trillion mark for the first time.
Following Bloomberg Barclay's, JP Morgan will take a similar step to add the onshore bonds into its Government Bond Index Emerging Markets (GBI-EM) from February 2020, which could translate into USD3 billion per month of fresh inflows.
While China is facing both internal and external challenges, the policymakers will continue to carry out structural reforms and deregulate domestic markets in order to attract more international participation.
Fig 6: Foreign holdings of onshore bonds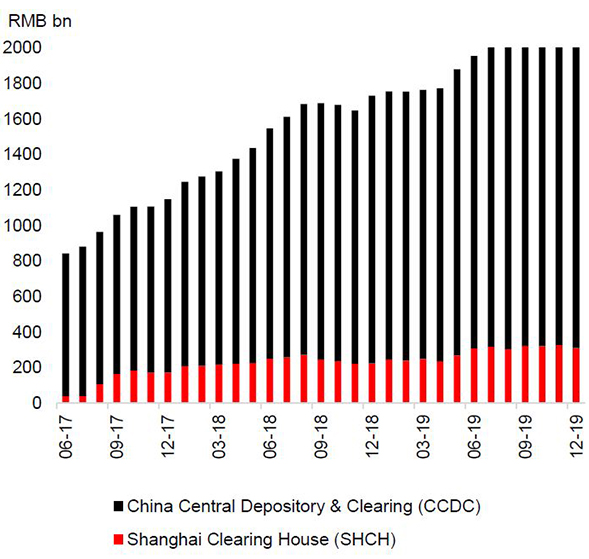 Source: CFETS, PBoC , HSBC Global Asset Management as of January 2020
Investment involves risks. Past performance is not indicative of future performance
Any forecast, projection or target contained in this presentation is for information purposes only and is not guaranteed in any way. HSBC Global Asset Management accepts no liability for any failure to meet such forecasts, projections or targets. For illustrative purposes only.
Important information
The value of investments and the income from them can go down as well as up and investors may not get back the amount originally invested. Past performance contained in this document is not a reliable indicator of future performance whilst any forecasts, projections and simulations contained herein should not be relied upon as an indication of future results. Where overseas investments are held the rate of currency exchange may cause the value of such investments to go down as well as up. Investments in emerging markets are by their nature higher risk and potentially more volatile than those inherent in some established markets. Economies in Emerging Markets generally are heavily dependent upon international trade and, accordingly, have been and may continue to be affected adversely by trade barriers, exchange controls, managed adjustments in relative currency values and other protectionist measures imposed or negotiated by the countries with which they trade. These economies also have been and may continue to be affected adversely by economic conditions in the countries in which they trade. Mutual fund investments are subject to market risks, read all scheme related documents carefully.
The contents of this document may not be reproduced or further distributed to any person or entity, whether in whole or in part, for any purpose. All non-authorised reproduction or use of this document will be the responsibility of the user and may lead to legal proceedings. The material contained in this document is for general information purposes only and does not constitute advice or a recommendation to buy or sell investments. Some of the statements contained in this document may be considered forward looking statements which provide current expectations or forecasts of future events. Such forward looking statements are not guarantees of future performance or events and involve risks and uncertainties. Actual results may differ materially from those described in such forward-looking statements as a result of various factors. We do not undertake any obligation to update the forward-looking statements contained herein, or to update the reasons why actual results could differ from those projected in the forward-looking statements. This document has no contractual value and is not by any means intended as a solicitation, nor a recommendation for the purchase or sale of any financial instrument in any jurisdiction in which such an offer is not lawful. The views and opinions expressed herein are those of HSBC Global Asset Management Global Investment Strategy Unit at the time of preparation, and are subject to change at any time. These views may not necessarily indicate current portfolios' composition. Individual portfolios managed by HSBC Global Asset Management primarily reflect individual clients' objectives, risk preferences, time horizon, and market liquidity.
We accept no responsibility for the accuracy and/or completeness of any third party information obtained from sources we believe to be reliable but which have not been independently verified.
Source: MSCI. The MSCI information may only be used for your internal use, may not be reproduced or redisseminated in any form and may not be used as basis for or a component of any financial instruments or products or indices. None of the MSCI information is intended to constitute investment advice or a recommendation to make (or refrain from making) any kind of investment decision and may not be relied on as such. Historical data and analysis should not be taken as an indication or guarantee of any future performance analysis, forecast or prediction. The MSCI information is provided as an "as is" basis and the user of this information assumes the entire risk of any use made of this information. MSCI, each of its affiliates and each other person involved in or related to compiling, computing or creating any MSCI information (collectively 'the MSCI Parties') expressly disclaims all warranties (including, without limitation, all warranties of originality, accuracy, completeness, timeliness, non-infringement, merchantability and fitness for a particular purpose) with respect to this information. Without limiting any of the foregoing, in no event shall any MSCI Party have any liability for any direct, indirect, special, incidental, punitive, consequential (including, without limitation, lost profits) or any other damages. (www.msci.com)
Copyright © HSBC Global Asset Management (Hong Kong) Limited 2020. All rights reserved. No part of this publication may be reproduced, stored in a retrieval system, or transmitted, on any form or by any means, electronic, mechanical, photocopying, recording, or otherwise, without the prior written permission of HSBC Global Asset Management (Hong Kong) Limited.
This document has not been reviewed by the Securities and Futures Commission.
HSBC Global Asset Management is the brand name for the asset management business of HSBC Group. The above communication is distributed in Hong Kong by HSBC Global Asset Management (Hong Kong) Limited.
---
Getting started

Learn more about HSBC funds

Find out how to invest

Individual investors
Financial intermediaries
Institutional investors

—