China fixed income: No good news is not bad news
Despite FTSE Russell's decision to not include onshore RMB Chinese government bonds into its flagship index, we believe the mainstreaming of onshore assets will continue to progress.
26 September 2019
No good news is not bad news
In its September 2019 annual review, FTSE Russell has decided to not include onshore RMB Chinese government bonds into its flagship index. The index provider cited secondary market liquidity as well as FX execution and settlement of transactions as areas where index users would like to see improvements. FTSE acknowledged the cooperation of the PBOC and stated that it would continue to engage with the central bank on how to best address the outstanding criteria. We believe that despite this decision, it remains clear that China has been making efforts to advance its financial market reforms and expand access to its capital markets. These efforts have been recognized by both Bloomberg as well as JP Morgan as they have both announced or begun the inclusion of Chinese onshore bonds into their widely tracked indices this year, still providing evidence that this asset class is becoming more mainstream. We believe that investors should continue to concentrate on the drivers of fixed income returns. As we now find ourselves in an environment where over a quarter of global investment grade debt is trading at negative yields, it remains an opportune time for investors to look for ways to diversify their portfolios.
The conventional narrative sometimes goes that if there is a slowdown in an economy, asset prices will suffer. Looking at China, the interesting aspect of this case is that a slowing Chinese economy is precisely the reason why the yield of high quality RMB bonds has been falling fairly consistently since the beginning of last year, and would have provided an excellent foil to the rising US treasury yields which wreaked havoc on global bond portfolios in 2018. In fact, China was one of the best performing government bond markets in the world in 2018, whether on a hedged or unhedged basis. Any surprise at this statistic is likely to stem from the erroneous assumption that in a year of negative economic headlines, Chinese assets performed poorly.
Fig. 1: Performance of China bonds vs global bonds
12/31/2017=100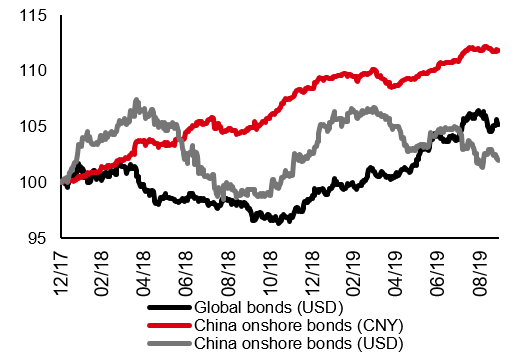 Source: Markit, Bloomberg as of 26 September 2019.
Onshore RMB government bond yields reflect expectations of future interest rates and domestic supply and demand conditions. In this way, Chinese government bonds behave more like a developed than an emerging market, although it's probably fair to say that making any generic characterisation of these two is becoming increasingly difficult. The Chinese government is rated A+/A1, which implies relatively lower credit risk, so its peers lie more in the developed than emerging world.
Fig. 2: China domestic yields driven by domestic rate expectations and supply and demand
CNY 5-year government bond yield (%)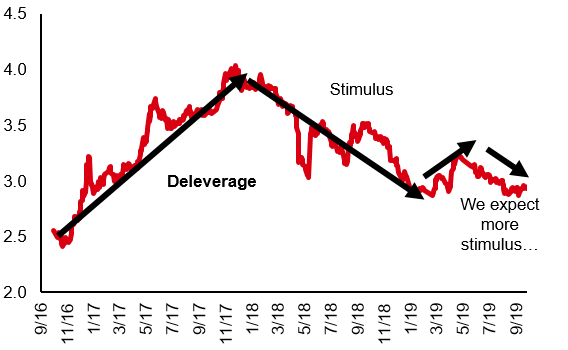 Source: Bloomberg as of 26 September 2019.
Meanwhile, the low participation of foreign investors, which is a legacy of closed markets and low benchmark weightings, means that this asset class is far less impacted by global capital flows and risk sentiment. The special diversification qualities this can bring to a global bond portfolio are surely compelling.
Fig. 3: RMB bonds: Low correlation to other asset classes
Correlation of returns
| | | |
| --- | --- | --- |
| | Offshore RMB bonds | Onshore RMB bonds |
| Global bonds | 0.201 | 0.199 |
| US bonds | 0.18 | 0.195 |
| Em bonds | -0.008 | 0.199 |
| Asian bonds | 0.206 | 0.119 |
| US Treasury | 0.165 | 0.191 |
| US Treasury | 0.194 | 0.128 |
Source: Bloomberg as of September 2019
But what about the currency? Many investors believe that this is the mechanism by which anything which limits Chinese growth will impact asset prices, especially for the many investors who take naked foreign exchange risk when investing in emerging market bonds - and therefore enjoy the higher yields. The more nuanced issue here is the incentives of the Chinese government. China is keen to maintain at least a relatively stable currency to support domestic demand, which is now by far the biggest contributor to economic growth, while also encouraging greater inward investment. It especially wants to avoid a rerun of 2015, when a weaker currency led to significant outflows, which in turn led to further currency weakness, thereby creating a vicious circle. This makes China unusual in a world where many governments would prefer a weaker currency in order to support foreign demand. But in the medium to long term, it argues for a stronger RMB.
For investors who choose to hedge their currency risk, the prospect of investing in RMB bonds has also become more attractive. Because short term interest rates in China have fallen more quickly in China than in the US, Europe and Japan, the cost of hedging has come down considerably. This means that investors hedging RMB China government bonds into these domestic currencies may still enjoy a yield pick-up, while continuing to enjoy the benefits of a diversified interest rate cycle.
In essence, diversification in investment returns comes from differences in fundamentals. If all the world was the same, then assets from different regions and countries would give the same types of return. We cannot emphasise enough the unique nature of the integration of Chinese markets into the global financial system. Despite FTSE's decision, it is only a matter of time before they begin including onshore bonds. To have such a huge pool of uncorrelated liquid assets become suddenly available to investors is not something which has happened before and may not happen again. In this way, we see that embracing this opportunity is simply accepting the future and what may soon be conventional for all of us. In the meantime, the potential benefits to portfolio returns could be substantial.
Fig. 4: 10-year government bond yields of largest global bond markets
10-year government bond yield (%)

Source: Bloomberg as of 26 September 2019.
---
Getting started

Learn more about HSBC funds

Find out how to invest

Individual investors
Financial intermediaries
Institutional investors

—