Asian bonds: Investing during volatility
Geoffrey Lunt, Senior Product Specialist, Asian Fixed Income, discusses the Asian fixed income markets in light of the recent market volatility and action taken by central banks globally to tackle the impact of COVID-2019
16 March 2020
In a further sign that the authorities are determined to mitigate the impact of COVID-2019, the US Federal Reserve cut interest rates by a full 1 per cent (to 0.00 per cent to 0.25 per cent range) on 15 March, after bringing their decision forward from later this week. Other measures were also announced including buying of a further USD700 billion of US Treasury bonds, ensuring emergency funding for banks should they need it, and coordinating swap line arrangements with other major central banks to ensure a plentiful supply of USD (mitigating a risk which occurred during the global financial crisis). Central banks in Asia have also acted in March to ease rates, including in Korea, Australia, New Zealand, Malaysia, Hong Kong (following the Fed's move), China (by form of targeted RRR) and Indonesia (by form of RRR).
Global credit markets were very weak in the week ending 13 March, even in high quality bonds by the end of the week. The selloff in higher quality bonds is almost certainly because these are the most liquid and easiest to sell. The Fed's move may be at least partly to offset this somewhat counterintuitive reaction in sovereign and high quality bond markets.
'Boring' is probably a good thing to say about any market at the moment, but in comparison to what is happening in some other corners of the financial world, the price action in Asia fixed income is somewhat pedestrian. Spreads in Asia have not been immune and even the most conservative of our strategies is seeing negative days; there is a deterioration in even higher quality credit indices now, but not very drastic. The Fed rate cut should help this with a strong rally in rates and injection of liquidity. Local currency bonds are holding up quite well – especially China with RMB moderately stable.
Year-to-date: Asia fixed income markets are generally in positive or flat territory, except for high yield
Index performance (31-Dec-2019=100)

Source: Bloomberg, Markit, JP Morgan as of 13 March 2020. Investment involves risks. Past performance is not indicative of future performance.
It might be worth having a longer term perspective on Asia fixed income performance which shows that, although a painful period, it is not so dramatic.
Longer term perspective: Asia fixed income markets have been generally stable
Index performance (16-Mar-2015=100)

Source: Bloomberg, Markit, JP Morgan as of 13 March 2020. Investment involves risks. Past performance is not indicative of future performance.
These are difficult times and of course a material year-to-date negative return from Asian high yield should not be trivialized, but the nature of riskier credit markets is that you do occasionally have these periods of drawdown, but the recovery tends to be quick. Even in the global financial crisis in 2008 – which at its heart was a credit market crisis – the drawdown of the Asia high yield market lasted just a few months and the market had started its recovery rather quickly. In other situations, the recovery was even quicker. The total return of the US high yield market – which has a much longer history – shows a similar pattern going back to the mid-1980s.
Historical Performance of Asia high yield market: quick recovery after drawdown
Asia non-investment grade market: total return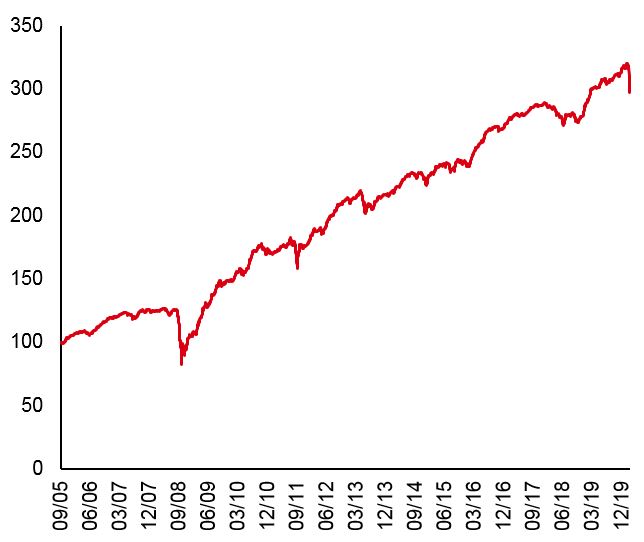 Historical Performance of US high yield market: since 1986
US high yield market: total return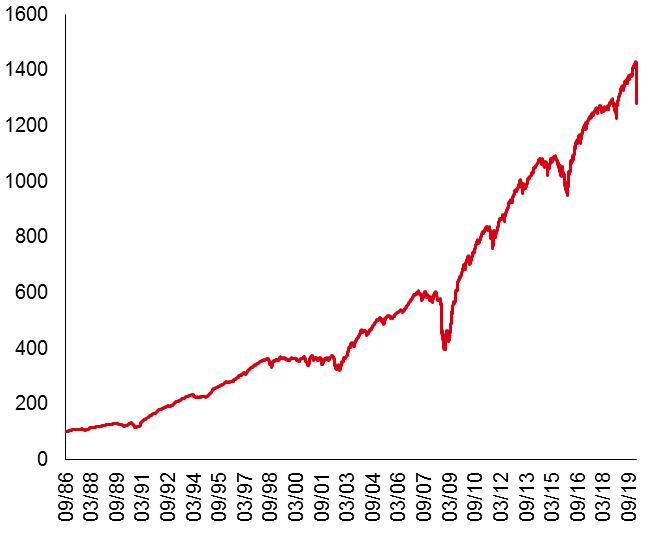 Source: JP Morgan as of 13 March 2020. Investment involves risks. Past performance is not indicative of future performance.
In looking at the bigger picture for investment markets and beyond the disconcerting short term price action, there are good reasons to be hopeful in the medium term:
There is a massive liquidity injection into the global financial system and this will continue for as long as needed
Further stimulus will likely be provided through government fiscal policy
The economic shock will probably be sharp, but short. Already we can see places like Hong Kong and China getting back close to normal everyday life, notwithstanding continued social distancing and immigration controls
The market sell off is already offering attractive valuations. Whereas some companies will surely not survive, those which do make it through have bonds which can potentially provide good returns over the coming months and years
The financial system is much more robust than it was before the global financial crisis in 2007/2008 with banks much better capitalized and authorities much more experienced at anticipating systemic risk
There is every chance that a medical breakthrough could occur given the global incentive to discover a vaccine and to learn more about how best to treat those with the virus
In terms of Asia fixed income specifically, there are more plus points:
There is good anecdotal and big data suggesting China and other territories (Taiwan, Hong Kong, Singapore) are recovering. Bloomberg Economics estimates the back-to-work rate in China at between 80-85 per cent for the week ending March 13. City level mobility data indicates 75 per cent of the economy restored by 11 March, up from 36 per cent in February
Asia credit has higher yields than US or Euro (and Euro hedged) with lower duration. Asian governments (especially China) also have a more interventionist attitude to assisting sectors or even individual companies. Asian company balance sheets were – on average – already probably in better condition going into this situation
What are we doing in our strategies?
Notwithstanding the positive medium term factors outlined above, the market is simply much too uncertain and volatile in the short term to be anything other than prudent and cautious
This means that we continue to have tactical positions which will dampen this volatility where we can, including longer duration, derivative overlays to reduce beta where possible (Hong Kong credit funds) and concentrating on more resilient credits – although the prospects for the credits which survive in the medium term are good, we will see more defaults in the market and certain sectors will be badly hit, and we remain focused on avoiding these
Any forecast, projection or target where provided is indicative only and is not guaranteed in any way. HSBC Global Asset Management accepts no liability for any failure to meet such forecast, projection or target.
The views expressed herein do not constitute investment advice, research or trade recommendation. Such views are the personal views of the author only and do not necessarily represent the views of HSBC Global Asset Management (Hong Kong) Limited.
---
Getting started

Learn more about HSBC funds

Find out how to invest

Individual investors
Financial intermediaries
Institutional investors

—