Asia in charts: Navigating the post COVID-19 world
In Asia, the pandemic-induced economic crisis has amplified ongoing structural changes and created new investment opportunities.
18 June 2020
Key takeaways:
North Asian economies have been amongst the best in the world at containing the COVID-19 outbreak, whereas South and Southeast Asian economies have faced bigger challenges in navigating the health crisis
On the monetary front, Asian central banks have taken aggressive steps to combat the economic downturn brought about by the COVID-19 crisis
Adding on to the already heightened market uncertainty are the renewed tensions between the US and China. On the bright side, there are signs that at least parts of the Chinese economy are recovering
As people in Asia gain better awareness of health risks after the coronavirus pandemic, certain industries in the region are expected to benefit – such as healthcare and insurance
The "digitalisation" of the economy has moved faster in Asia than in the other parts of the world as people in Asia are more incentivised to embrace e-commerce and digital payment platforms, due to a relative lack of well-functioning traditional alternatives
Some Asian markets are bound to benefit from the 5G revolution, as they are crucial contributors in the 5G supply chain
The market for luxury goods in Asia not only exhibits a trend of strong growth but also has proven itself resilient even during times of economic weakness
Macro overview
COVID-19 responses
A tale of two Asias
There is a diverging trend in the outbreak and containment of COVID-19 among Asian markets. North Asia (China, Japan, Taiwan, Hong Kong, etc) has so far contained the spread of the virus, faring much better than their neighbors in South and Southeast Asia (India, Indonesia, Philippines, etc) where new COVID-19 cases are still rising. As a result, North Asian economies are expected to see an economic recovery sooner.
Parts of Asia have done better at containing the virus outbreak than others
Daily confirmed new cases of COVID-19(1)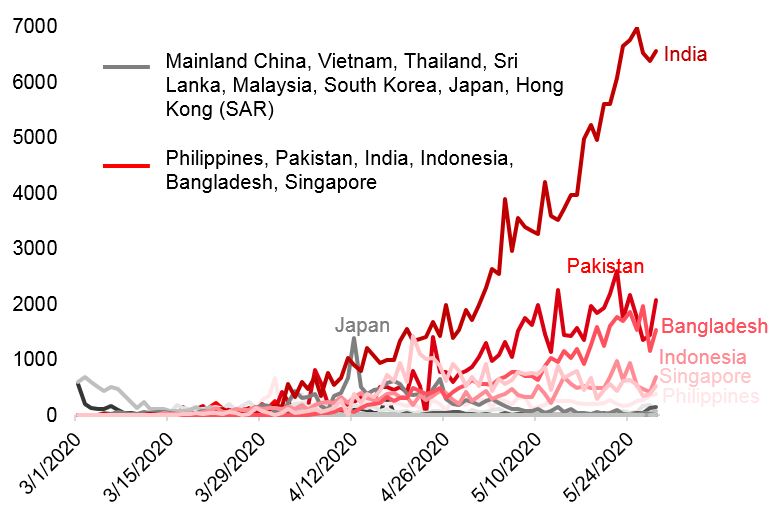 Massive policy easing
No time for half-measures
Central banks across the world have undertaken aggressive monetary easing to combat the economic downturn brought about by the COVID-19 crisis. But unlike Western central banks, which went into the crisis with already very low policy rates, Asian central banks have had much more room to implement rate cuts to mitigate the economic impact warranted by the coronavirus outbreak. In fact, many Asian central banks can still make further cuts to their policy rates if future developments call for more easing.
Asian central banks have made sizable cuts to their policy rates, and there is still room for more
YTD changes in interest rates (%) (as of 1 June 2020)(2)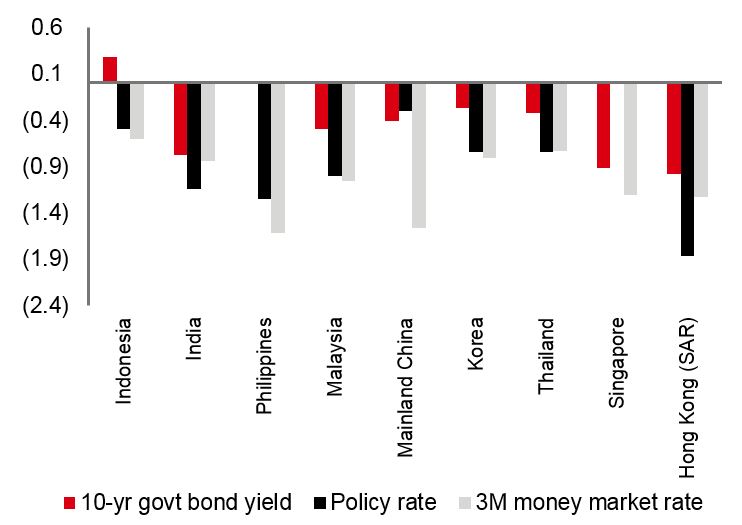 US-China tensions
More than a lovers' quarrel
At the beginning of the year, US-China trade relations were starting to warm up subsequent to the phase one trade deal. Unfortunately, the COVID-19 outbreak has driven a wedge between their mending relations. Tensions are heating up again as evidenced by recent threats coming from both sides at each other. A strong force running counter to the current actions of both governments is existing economic integration between the two as a result of increased mutual investment flows over the past two decades.
US investors (including corporations) have increasingly invested more in mainland China
Direct investment position of the United States in mainland China (on a historical-cost basis)(3)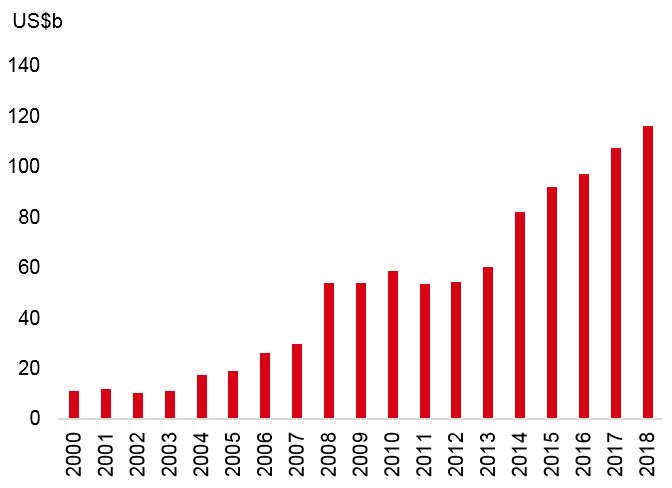 China as a lead indicator
Getting back on its feet
China was the first country to be impacted by COVID-19, and it is also the first to come out of the crisis. The supply side of China's economy is on a steady path to recovery, as can be seen by the restoration of the country's manufacturing PMI to normal levels. On the other hand, the demand side of the economy might remain sluggish for a while longer because external demand is still weak – since many countries are still tackling the coronavirus outbreak – and it will take time to restore consumer confidence within the country.
China's manufacturing PMI returning to its previous levels suggests a supply side recovery
China manufacturing PMI(4)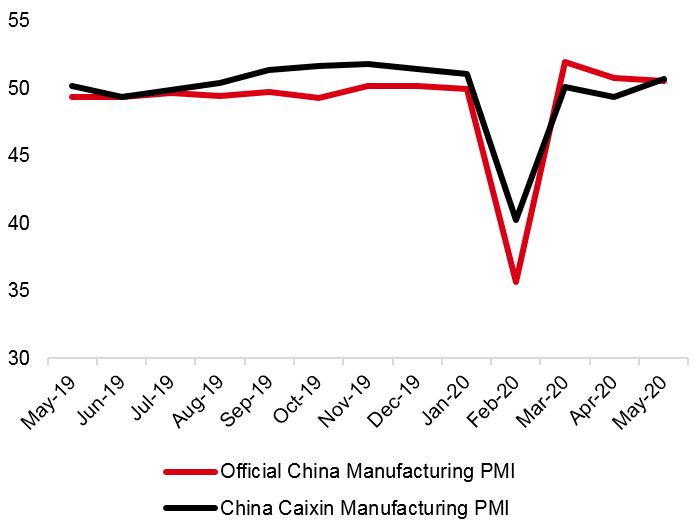 Investment themes
Healthcare
Room for growth
Asian economies in general still spend a much smaller portion of their GDPs on healthcare than developed economies. As the region is seeing increasing levels of income, its inhabitants are also becoming more health-conscious, implying abundant room for growth in its healthcare industry. Over time, demographic changes and aging populations in some parts of Asia will be potent forces that propel the region's healthcare industry.
Healthcare expenditures in Asian economies are still low indicating room for growth
Healthcare expenditure (% of GDP in 2017)(5)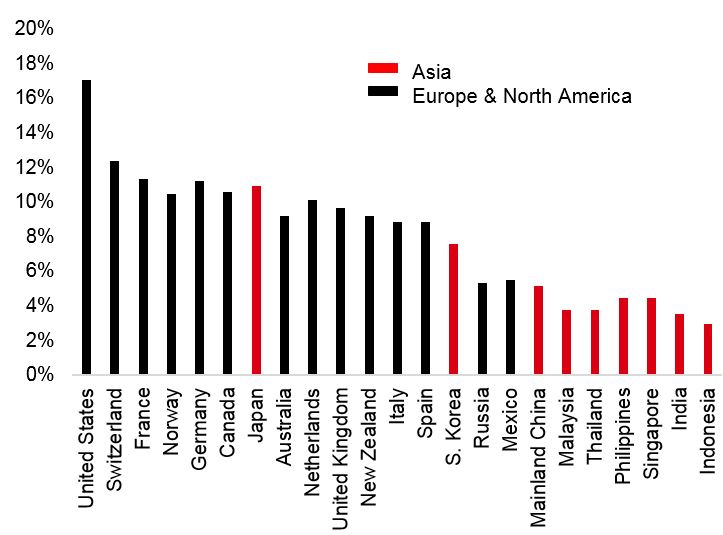 Healthcare
Vaccination: protection against viruses
Looking within the healthcare sector, vaccine manufacturers are expected to be amongst the first to see a positive impact due to the COVID-19 crisis, given the heightened awareness of prevention against viral diseases. Vaccination has yet to gain popularity in most Asian economies. Taking China as an example, its vaccination rate against influenza is very low compared to developed markets. (2-3 per cent in China vs. 30-50 per cent in developed markets).
The Chinese vaccination market is expected to grow at a very fast pace
China's vaccine market in terms of sales revenue, 2013-2030E(6)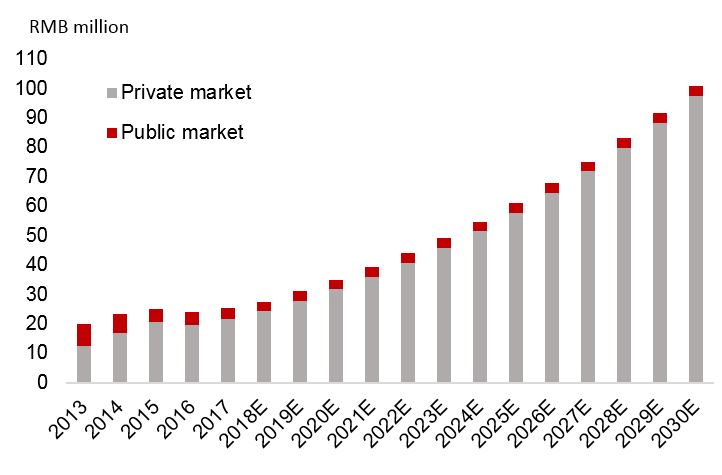 Insurance
A yearning for protection in a volatile world
The level of insurance penetration in an economy is linked to its stage of economic development – generally speaking, as a nation becomes more wealthy, its expanding middle class would have a stronger demand for protection against adverse events that might erode their wealth. Therefore, there is abundant growth potential for the insurance industry in the currently less developed Asian economies where insurance penetration is still very low. The COVID-19 crisis will also facilitate a stronger affinity for health and life insurance products.
Growth potential in insurance given Asia's low insurance penetration rate
Insurance penetration: premiums as % of GDP, 2018(7)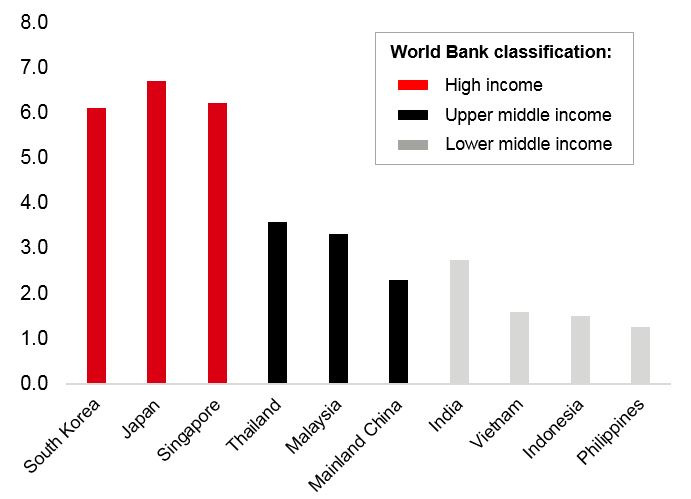 Luxury goods
The eye of an economic storm
The luxury goods market in Asia has historically been resilient during times of economic downturns. Consumers of luxury goods tend to have more discretionary income and would therefore have enough buffer to smooth out their consumption patterns through good and bad times. Even an event as significant as COVID-19 is only expected to slightly dent the revenue growth trend for luxury goods in Asia in 2020.
The luxury goods market is not taking too big a hit in the currently stressed economic environment
Asia's luxury goods market, projected total revenue(8)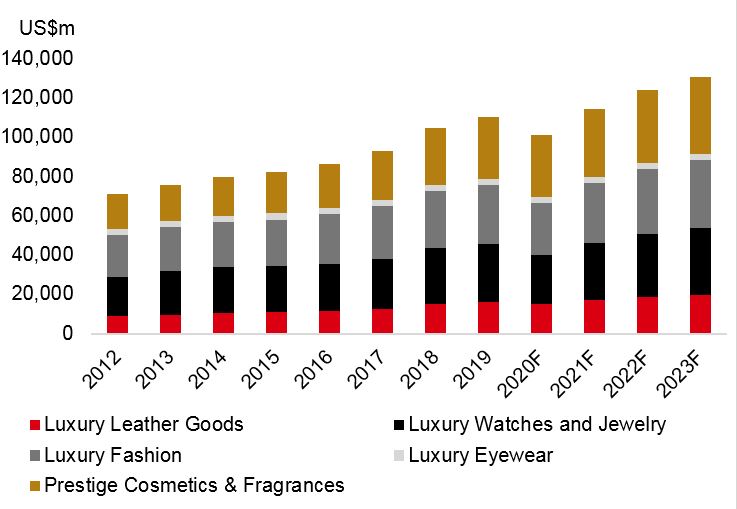 E-commerce
A digital economy on the rise
In China, the traditional economy is giving way to the digital economy more quickly than in the more developed world. A key driving force behind this faster transition is that China's traditional marketplace and payment infrastructure were less developed and convenient to begin with, resulting in Chinese people being more willing to opt for purchasing goods and services online. The same dynamic is also present in other developing Asian countries. Recent social restrictions due to COVID-19 are also incentivising people to participate more in the digital economy.
An increasing proportion of retail sales in China are being made online
Chinese online economy as % of total economy(9)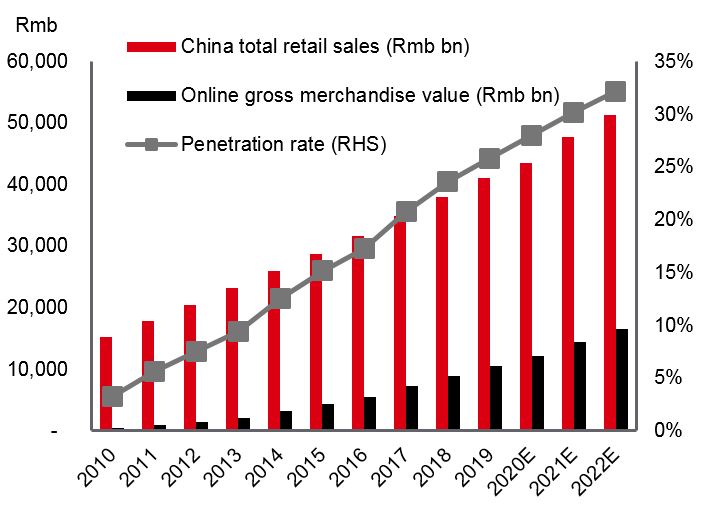 5G
A revolution in mobile technology
The rapid increase in the consumption of data in Asia – a trend that is being strengthened by people spending more time at home due to COVID-19 – will accelerate the rollout of 5G in the region. The increase in demand for 5G-compatible network infrastructure and 5G smartphones will benefit certain Asian economies that are key contributors to the 5G supply chain – namely Taiwan, South Korea and China. That said, 5G adoption will be off to a slower start than 4G because the power and speed of 5G is in excess of what many existing 3G and 4G customers currently need.
The adoption of 5G is projected to be off to a slower start than 4G….
Projected 5G smartphone volume over time (vs 4G)(10)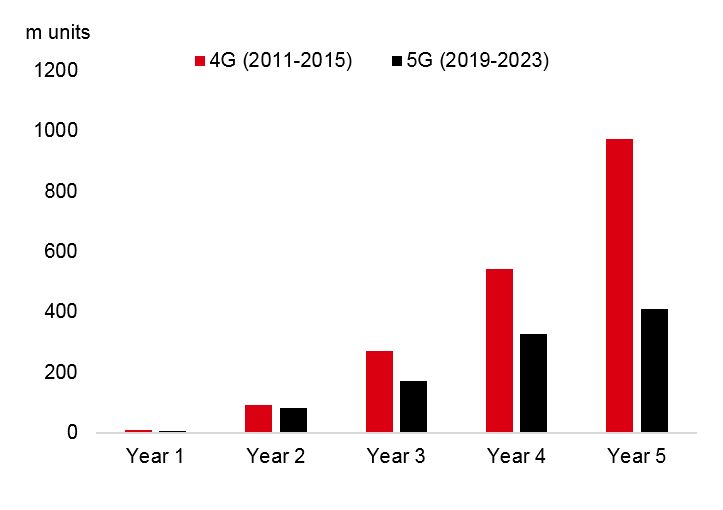 Source:
1University of Oxford – Our World in Data, data as of May 2020
2Bloomberg, data as of June 2020
3Bureau of Economic Analysis, annual data as of 2018
4HS Market, National Bureau of Statistics, data as of May 2020
5World Health Organization, data as of May 2020. WHO's comprehensive and comparable database on health spending for 190 countries is updated annually and released in December of each year with a 2-year lag
6CanSino Biologics, CIC Asia, data as of March 2019
7Swiss Re Institute, data as of July 2019
8Statista (forecast adjusted for expected impact of COVID-19), data as of April 2020
9Goldman Sachs Research, data as of May 2020
10ICD, Nomura Research, data as of March 2020

Any views expressed were held at the time of preparation and are subject to change without notice. While any forecast, projection or target where provided is indicative only and not guaranteed in any way. HSBC Global Asset Management accepts no liability for any failure to meet such forecast, projection or target. For illustrative purpose only.
Important information
The value of investments and the income from them can go down as well as up and investors may not get back the amount originally invested. Past performance contained in this document is not a reliable indicator of future performance whilst any forecasts, projections and simulations contained herein should not be relied upon as an indication of future results. Where overseas investments are held the rate of currency exchange may cause the value of such investments to go down as well as up. Investments in emerging markets are by their nature higher risk and potentially more volatile than those inherent in some established markets. Economies in Emerging Markets generally are heavily dependent upon international trade and, accordingly, have been and may continue to be affected adversely by trade barriers, exchange controls, managed adjustments in relative currency values and other protectionist measures imposed or negotiated by the countries with which they trade. These economies also have been and may continue to be affected adversely by economic conditions in the countries in which they trade. Mutual fund investments are subject to market risks, read all scheme related documents carefully.
The contents of this document may not be reproduced or further distributed to any person or entity, whether in whole or in part, for any purpose. All non-authorised reproduction or use of this document will be the responsibility of the user and may lead to legal proceedings. The material contained in this document is for general information purposes only and does not constitute advice or a recommendation to buy or sell investments. Some of the statements contained in this document may be considered forward looking statements which provide current expectations or forecasts of future events. Such forward looking statements are not guarantees of future performance or events and involve risks and uncertainties. Actual results may differ materially from those described in such forward-looking statements as a result of various factors. We do not undertake any obligation to update the forward-looking statements contained herein, or to update the reasons why actual results could differ from those projected in the forward-looking statements. This document has no contractual value and is not by any means intended as a solicitation, nor a recommendation for the purchase or sale of any financial instrument in any jurisdiction in which such an offer is not lawful. The views and opinions expressed herein are those of HSBC Global Asset Management Global Investment Strategy Unit at the time of preparation, and are subject to change at any time. These views may not necessarily indicate current portfolios' composition. Individual portfolios managed by HSBC Global Asset Management primarily reflect individual clients' objectives, risk preferences, time horizon, and market liquidity.
We accept no responsibility for the accuracy and/or completeness of any third party information obtained from sources we believe to be reliable but which have not been independently verified.
Copyright © HSBC Global Asset Management (Hong Kong) Limited 2020. All rights reserved. No part of this publication may be reproduced, stored in a retrieval system, or transmitted, on any form or by any means, electronic, mechanical, photocopying, recording, or otherwise, without the prior written permission of HSBC Global Asset Management (Hong Kong) Limited.
This document has not been reviewed by the Securities and Futures Commission.
HSBC Global Asset Management is the brand name for the asset management business of HSBC Group. The above communication is distributed in Hong Kong by HSBC Global Asset Management (Hong Kong) Limited.
---
Getting started

Learn more about HSBC funds

Find out how to invest

Individual investors
Financial intermediaries
Institutional investors

—