Asia Equity: The evolution of 5G
The societal change in consuming more online content is fueling the surging global demand for online streaming devices, gaming consoles and digital TV, which would continue to drive the acceleration for 5G
11 February 2021
The results coming from one of the information technology holdings in our high conviction thematic strategy Evolving Asia could reveal some remarkable insights on the topic of 5G development:
Company guided that 5G shipment to increase by 2.5x to 500mn units of 5G device in 2021. To put this in context, HSBC Asset Management has estimated 5G penetration rate has reached ~20 per cent in 2020, and could reach close to 35-40 per cent in 2021. Penetration rate in 2019 was 2 per cent.
60 per cent of the company's shipment is to China – that's where the action is as some of the smartphone makers are launching sub RMB1000 5G smartphones. Chart 2 below shows that China's 5G smartphone penetration has already surpassed 50 per cent in 2020.
The Evolving Asia strategy is focused to uncover companies which capture the long term mega trends in Asia. The societal change in consuming more online content is fueling the surging global demand for online streaming devices, gaming consoles and digital TV, which would continue to drive the acceleration for 5G. The importance of technological innovation is also highlighted by being a leader in the field: the company is going to continue to spend aggressively on research and development with a USD3 billion budget set for 2021. This is done while managing to increase margins and yet still able to reward investors in the form of dividend yield.
CHART 1 – 5G vs 4G smartphone penetration rate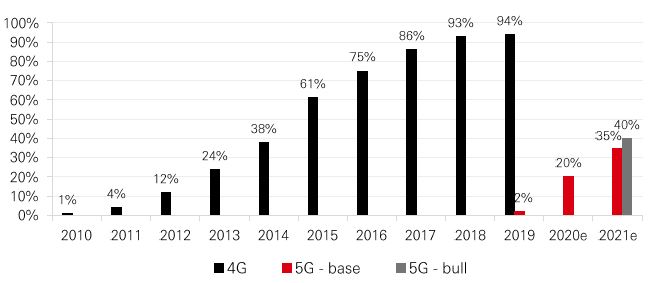 Source: HSBC Asset Management, December 2020.
Any views expressed were held at the time of preparation and are subject to change without notice.
While any forecast, projection or target where provided is indicative only and not guaranteed in any way.
Chart 2 – 5G penetration in mainland China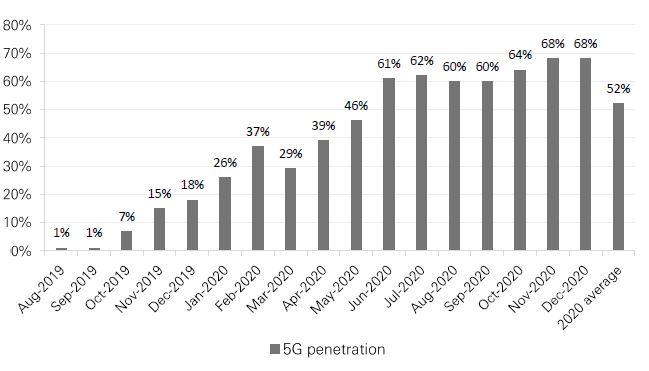 Source: CIACT, data as of December 2020.
The views expressed herein do not constitute investment advice, research or trade recommendation. Such views are the personal views of the author only and do not necessarily represent the views of HSBC Global Asset Management (Hong Kong) Limited.